Kedgeree is a dish that is said to have originated in the 13th century in India. It became popular during the British rule of India and is a classic Anglo-Indian breakfast dish. The dish can be eaten hot or cold.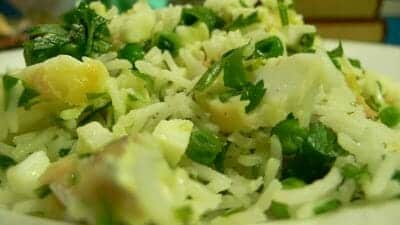 Ingredients:
Basmati Rice – 500 gms, washed, drained
Haddock Fillets – 2, large or 4, small, smoked, skinned
Garam Masala Powder – 2 tblsp
Turmeric Powder – 2 tsp
Chicken Stock – 1 litre
Onions – 2, finely chopped
Butter – 2 to 3 tblsp
Eggs – 5 to 6, soft-boiled, shelled, halved
Lemon Wedges to serve
Parsley – few
Method:
1. Heat 2 tblsp butter in a pan over medium flame.
2. Add the onions and saute for 10 minutes or until soft.
3. Add the basmati rice, garam masala powder and turmeric powder.
4. Stir well and cook for 3 to 4 minutes.
5. Pour the chicken stock and cover the pan with a lid.
6. Simmer for 15 minutes and place the haddock fillets on top and add a little butter.
8. Cover and cook for another 5 minutes or until all the liquid has been absorbed and rice is cooked.
7. Gently fluff up the rice using a fork.
8. Garnish with boiled eggs, lemon wedges and parsley.
9. Serve hot.