Pineapple Salsa adds vibrant flavours to any dish. With juicy pineapples, crunchy bell peppers, and zesty onions, it's the perfect condiment for a refreshing and tangy twist.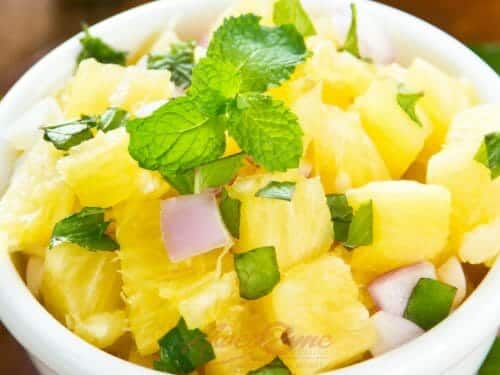 Get ready for a burst of vibrant flavours with Pineapple Salsa! This refreshing and tangy salsa is a delightful combination of juicy pineapples, crunchy bell peppers, zesty red onions, and a hint of spice. Its tropical flair adds a vibrant touch to any meal or gathering.
The Pineapple Salsa is a versatile condiment that pairs perfectly with various dishes. Whether you're serving it alongside grilled chicken, fish tacos, or even as a topping for burgers, this salsa brings a refreshing and sweet tang to every bite. The juicy pineapple chunks provide a tropical sweetness. At the same time, the combination of bell peppers and red onions adds a pleasant crunch and a burst of colour.
If you're in the mood for a light and healthy snack, Pineapple Salsa is an excellent choice. Serve it with crispy tortilla chips or as a topping for a fresh green salad. The combination of flavours will tantalize your taste buds and leave you craving for more.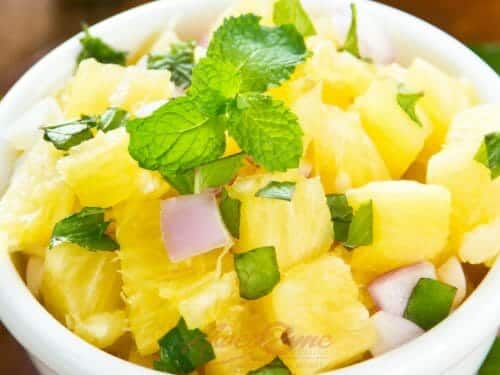 Pineapple Salsa
Pineapple Salsa adds vibrant flavours to any dish. With juicy pineapples, crunchy bell peppers, and zesty onions, it's the perfect condiment for a refreshing and tangy twist.
Ingredients
2

cup

Pineapples

chopped

1

Onion

large, finely chopped

4 to 5

Spring Onions

5

Green Chillies

1 1/4

tbsp

Lemon Juice

2

tsp

Sugar

few

Coriander Leaves

1/4

tsp

Lemon Rind

as per taste

Salt

as per taste

Black Pepper Powder
Instructions
Finely chop the spring onions, green chillies and coriander leaves.

Transfer to a large bowl.

Add the pineapples, onions, lemon juice, lemon rind and toss gently.

Add salt and pepper powder as per taste.

Toss again.

Keep it aside for 15 to 20 minutes.

Serve.
Frequently Asked Questions about Pineapple Salsa
Can I make Pineapple Salsa ahead of time?
Absolutely! Pineapple Salsa is a great make-ahead dish. It tastes even better when the flavours have had time to meld together. You can prepare it for a few hours before storing it in the refrigerator. This allows the ingredients to marinate, enhancing the overall taste. Just stir it well before serving to distribute the flavours evenly.
Can I adjust the spiciness of Pineapple Salsa?
Yes, you can easily adjust the level of spiciness in Pineapple Salsa to suit your taste preferences. If you prefer milder salsa, reduce or omit the spicy ingredients like jalapeños or chilli flakes. On the other hand, if you like it hot, feel free to add more heat by increasing the amount of jalapeños or adding a dash of hot sauce. Remember to taste as you go and adjust the seasoning accordingly.
What are some creative ways to enjoy Pineapple Salsa?
While Pineapple Salsa is delicious as a dip with tortilla chips, there are many creative ways to enjoy it. You can use it as a topping for grilled chicken or fish, a filling for tacos or quesadillas, or even a refreshing salsa to accompany grilled shrimp skewers. It also pairs well with grilled vegetables or decadent topping for burgers and sandwiches. The possibilities are endless!
Can I substitute fresh pineapple with canned pineapple?
Yes, you can substitute fresh pineapple with canned pineapple in Pineapple Salsa. However, remember that canned pineapple is usually sweeter and softer than fresh pineapple. Drain the canned pineapple well to remove excess liquid and adjust the sweetness of the salsa accordingly. Fresh pineapple is recommended if you prefer a more vibrant and tangy flavour.
How long can I store Pineapple Salsa?
Pineapple Salsa can be stored in the refrigerator for 3-4 days. However, it's best enjoyed within the first few days when the flavours peak. Make sure to keep it in an airtight container to maintain freshness. Before serving any leftover salsa, please give it a quick stir to combine the ingredients again.