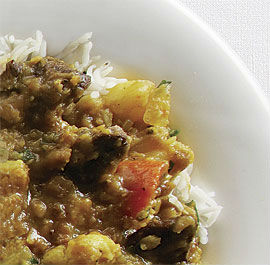 Ingredients:
Shoulder of Lamb – 225 gms, cut into small pieces
Ginger Paste – 1/4 tsp
Masoor Dal – 1/4 cup
Onion – 1, small, chopped
Tomatoes – 2, small, chopped
Lemon Juice – 1/2 tblsp
Ginger and Garlic Paste – 1/2 tsp
Cumin Seeds – 1/4 tsp
Mustard Seeds – 1/4 tsp
Turmeric Powder – 1/4 tsp
Water – 125 ml
Coriander Leaves – 1/2 tblsp
Oil
Method:
1. Cook the dal with water and turmeric powder for 10 minutes and keep aside.
2. Heat 1 tsp oil in a pan and fry the onions till golden brown.
3. Add the chopped tomatoes and ginger and garlic paste.
4. Simmer for a few seconds and add the lamb pieces.
5. Stir well and cover with a lid.
6. Cook on very low flame for about 10 minutes, stirring from time to time.
7. Remove the lid and add the dal with water.
8. Cook till the sauce has thickened and lamb pieces are soft.
9. Now add salt and lemon juice.
10. Simmer again for a few minutes.
11. In a separate pan, fry the mustard seeds and cumin seeds.
12. Pour over the lamb pieces.
13. Garnish with coriander leaves.
14. Serve hot with rice.
Note: image is for illustration purposes only and not that of the actual recipe.
Image credit: Fine Cooking