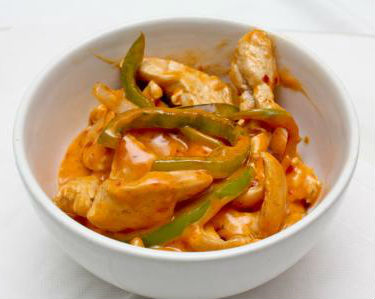 Ingredients:
Chicken Breasts – 2, skinned, boned, cut into thin strips
Garlic – 1 to 2 cloves, finely chopped
Onion – 1, small, finely chopped
Red Chilli – 1, halved, seeds removed, cut into thin strips
Red Capsicum – 1, halved, seeds removed, cut into thin strips
Olive Oil – 1 1/2 tblsp
Dry White Wine – 100 ml
Coriander Leaves – 1/2 tblsp, chopped
Tomato Puree – 1/2 tsp
Sugar – 1/4 tsp
Black Pepper Powder as required
Salt as per taste
Method:
1. Heat 3/4 tblsp of olive oil in a large pan.
2. Stir-fry the chicken over high heat for a few minutes or till slightly browned.
3. Remove and keep aside.
4. Add the remaining oil to the pan.
5. Add the garlic, chillies, onion and capsicum.
6. Fry for 1 to 2 minutes or till onions are soft.
7. Pour the wine and bring to a boil.
8. Add the chicken to the pan along with salt and pepper powder.
9. Reduce heat to low and cover the pan with a lid.
10. Simmer for 10 to 15 minutes.
11. Garnish with coriander leaves.
12. Serve hot.
Note: image is for illustration purposes only and not that of the actual recipe.
Image credit: trumps-grill.com .