Pori Urundai is a popular and traditional South Indian recipe often made during Karthigai Deepam festival and other festive occasions.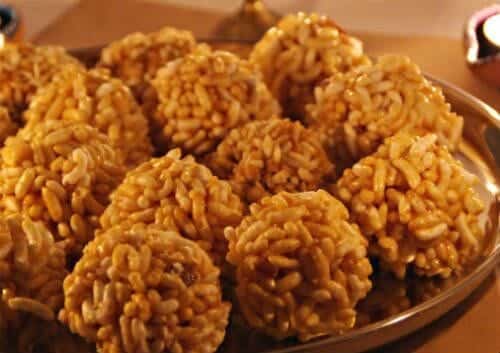 Ingredients:
Aval Pori (puffed rice flakes) – 4 cups, cleaned
Dark Jaggery – 2 cups, grated
Cashewnuts – 2 tblsp, fried
Roasted Gram – 2 tblsp
Peanuts – 2 tblsp, roasted
Ghee – 2 tsp
Cardamom Powder – 1 tsp
Dry Coconut – 2 tblsp, finely chopped, fried
Method:
1. Mix the peanuts, cashewnuts and grated coconut with the aval pori.
2. Keep aside.
3. Heat a heavy bottomed pan over moderate heat.
4. Add the jaggery and pour enough water to cover it.
5. Boil till the jaggery melts completely.
6. Strain the jaggery to remove any dirt.
7. Pour the jaggery into another heavy bottomed pan or clean the old one before pouring the strained jaggery liquid.
8. Boil for a few minutes. To check if it has cooked, drop 1 tblsp of jaggery syrup in cold water. If the mixture holds its shape when rolled with finger tips, then it is done.
9. Remove from flame.
10. Add the aval pori mixture along with cardamom powder, ghee and mix well.
11. Make balls of desired sizes while the mixture is warm.
12. Store in an airtight container.