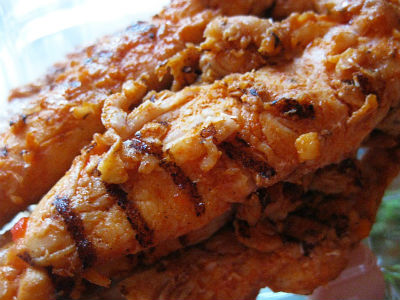 Ingredients:
Chicken Breasts – 500 gms, deboned, skinned, cut into strips
For the marinade:
Vinegar – 1 1/2 tblsp
Onion – 1, small, finely chopped
Ginger Garlic Paste – 1 tblsp
Cumin Powder – 1/2 tblsp
Coriander Powder – 1 tsp
Fennel Seeds – 1/2 tblsp
Black Cardamoms – 4, coarsely ground
Cinnamon – 1/2 tsp, coarsely ground
Cloves – 4
Black Peppercorns – 10
Dry Red Chillies – 1/2 tsp
Tomato Puree – 1/2 tblsp
Salt as per taste
Method:
1. Combine all the marinade ingredients and blend into a smooth paste.
2. Marinate the chicken strips in this mixture for 4 hours, covered.
3. Grill the chicken strips in a preheated oven at 140C/275F for 6 to 8 minutes, basting once or twice, till lightly browned.
4. Spread the strips on a baking tray lined with foil.
5. Grill for 10 minutes on each side till browned in spots.
6. Remove and serve warm.
image credit: mighty sweet