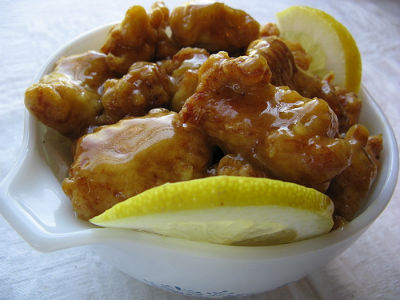 Ingredients:
Chicken Breast – 1, skinned, deboned, lightly beaten
Egg – 1, small, lightly beaten
Cornstarch – 2 tblsp
Oil as required
Lemon Zest – grated, to garnish
For the sauce:
Lemon Juice – 1 1/2 tblsp
Chinese Plum Sauce – 1 tblsp
Water – 1/3 cup (100 ml)
Cornstarch – 1 tsp
Lemon – 1/2 small, quartered, finely sliced
Method:
1. Mix all the sauce ingredients and keep aside.
2. Coat the chicken with the beaten egg.
3. Dip it in the cornstarch and keep aside.
4. Heat oil for deep frying over medium flame.
5. Add the chicken and deep fry till light golden brown.
6. Remove and drain excess oil.
7. Heat the sauce over medium flame and bring to a boil.
8. Then simmer till it thickens.
9. Cut the chicken into bite-sized pieces and transfer to a serving plate.
10. Pour the sauce over and garnish with grated lemon zest.
11. Serve at once.