A popular and delicious Kesari (Sheera) with Pineapple often served as a dessert during meals.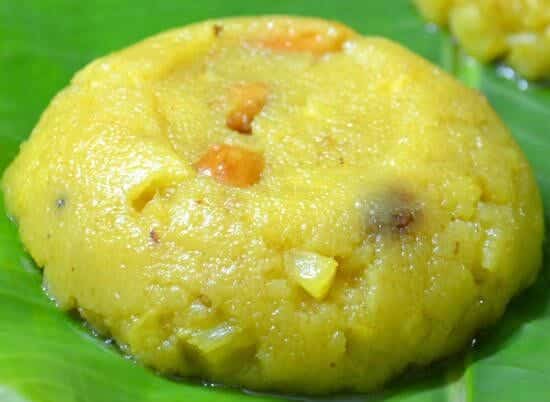 Ingredients:
Rava – 200 gms
Sugar – 150 gms
Pineapple – 1 cup, chopped
Ghee – 100 ml
Kesari Powder – a pinch
Cardamom Powder – little
Cashewnuts – 10
Method:
1. Lightly fry the rava in little ghee till golden.
2. Grind the pineapple pieces and keep aside.
3. Heat a pan over medium flame.
4. Pour enough water to the pan. For 1 cup of rava, add 1 cup of water (1:1 ratio).
5. Add the ground pineapple and bring to a boil.
6. Add rava and stir well. Cook for 4 to 5 minutes.
7. Add sugar, cardamom powder, kesari powder and mix well.
8. Fry the cashewnuts in ghee till golden and add to the pan.
9. Stir and remove.
10. Serve.