A simple to make starter or appetizer for any occasion or a great evening/weekend snack.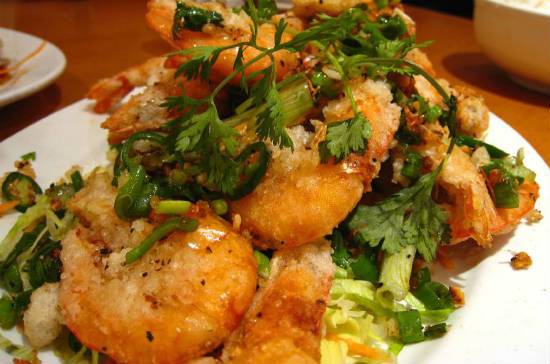 Ingredients:
King Prawns – 1.5 kgs, peeled, deveined, tails left intact
Cornflour – 2/3 cup
Sea Salt – 2 tblsp
Black Peppercorns – 2 tblsp, coarsely powdered
Oil – 1/2 cup
Coriander Leaves – 1/2 cup, finely chopped
Red Chillies – 2, finely sliced
Spring Onions – 2, finely sliced
Method:
1. Mix the cornflour, salt and pepper in a bowl.
2. Add the prawns and toss well to coat the prawns with the cornflour mixture.
3. Shake off any excess flour.
4. Heat oil in a large frying pan over medium flame.
5. Add the prawns in batches and cook for 5 minutes or until pink in colour.
6. Remove and drain excess oil.
7. Transfer to a serving plate.
8. Sprinkle coriander leaves, spring onions and red chillies.
9. Serve at once.