Veppam Poo (dried neem flowers) is a popular and common ingredient in South India, espcially in Tamil Nadu during Tamil New Year's day. With numerous health benefits, Veppam Poo is extensively used in Ayurvedic medicines to purify the blood, cure intestinal problems and improve the immunity. This pachadi made with green mangoes and jaggery is best served with hot rice.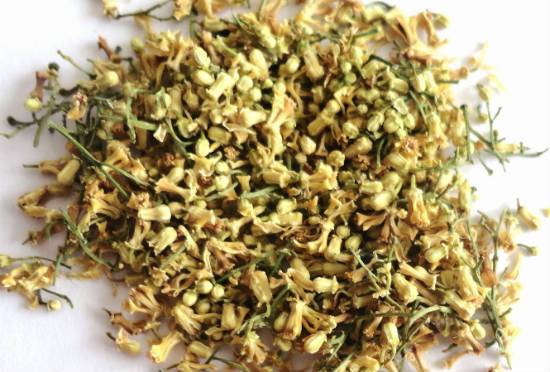 Ingredients:
Green Mangoes – 2 cups, chopped
Veppam Poo (Dried Neem Flower) – 2 tblsp, dried
Jaggery – 200 gms
Salt as per taste
Turmeric Powder – 1 tsp
Ghee – 2 tsp
Mustard Seeds – 1 tsp
Green Chillies – 4 to 5
Method:
1. Heat a pan of water over medium flame.
2. Add the chopped mangoes and bring to a boil.
3. Add turmeric powder and stir.
4. When the mangoes are soft, add jaggery and stir until jaggery has fully dissolved.
5. Switch off the flame.
6. Heat ghee in a pan over medium flame.
7. Fry the mustard seeds for 30 seconds.
8. Add green chillies and fry for a minute.
9. Add the neem flowers and stir-fry for a minute or two over low flame.
10. After a minute, add this to the mangoes.
11. Add salt and mix well.
12. Serve with rice.