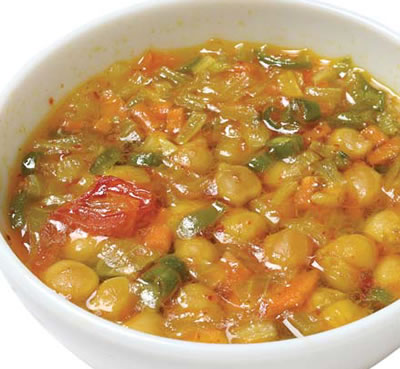 Ingredients:
Olive Oil – 2 tsp
Onion – 1, large, chopped
Turmeric Powder – 2 tsp
Coriander Powder – 1 tsp
Cumin Powder – 2 tsp
Mixed Vegetables – 1 cup, chopped
Vegetable Stock – 2 cups
Tomato – 1, chopped
Chickpeas – 1 cup, boiled
Parsley or Coriander Leaves – 1/2 cup, chopped
Pepper Powder as per taste
Method:
1. Heat oil in a large pan over medium flame.
2. Add the turmeric powder, coriander powder, cumin powder and mixed vegetables.
3. Add tomatoes, chickpeas and the vegetable stock.
4. Bring to a boil and reduce heat.
5. Simmer uncovered for 8 to 10 minutes or until vegetables are soft.
6. Add parsley and pepper powder.
7. Serve hot.
Tip: If you are using firm vegetables like potatoes, pumpkin, carrots and capsicum, add them to the pan in step 2.
If you are using soft vegetables like beans, peas, zucchini or broccoli add them before step 6 and cook for 4 to 5 minutes before adding parsley.