A flavourful soup with rice noodles, shredded chicken cooked in Thai red curry paste. Easy to make and tastes delicious. Perfect for those cold and rainy days or just about any other day or occasion.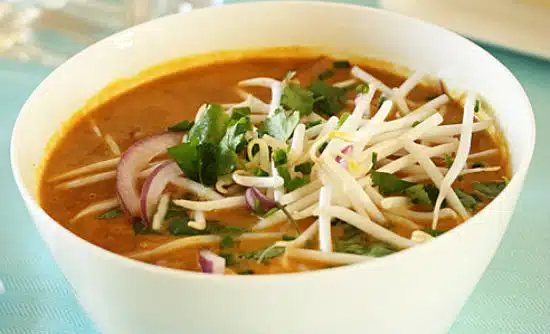 Ingredients:
Chicken Breast Fillets – 300 gms, halved
Rice Noodles – 100 gms
Garlic – 1 clove, crushed
Sambar Onions (Shallots) – 2, finely chopped
Thai Red Curry Paste – 3 tsp (available readymade)
Chicken Stock (or Plain Water) – 3 cups
Brown Sugar – 1 tsp
Cabbage – 1/2 cup, chopped
Avarakkai (Broad Beans) – 100 gms
Coriander Leaves – 1/4 cup, finely chopped
Thick Coconut Milk – 2 to 3 tblsp (unsweetened)
Red Chilli – 1, finely chopped
Bean Sprouts – 1/3 cup
Lime Wedges to serve
Olive Oil as required
Red Onions – few, sliced
Method:
1. Heat little oil in a pan over medium flame.
2. Fry the onions, garlic and red curry paste for a minute or two.
3. Add the chicken stock and stir well.
4. Add the chicken pieces and cover the pan with a lid.
5. Bring to a boil and reduce flame to low.
6. Simmer for 10 minutes or until the chicken is cooked through.
7. Remove the pan from the flame and transfer the chicken to a plate. Reserve the curry mixture in the pan itself.
8. Allow it to cool slightly.
9. Cook the noodles as per packet instructions and drain well.
10. Divide the noodles between 2 or 3 serving bowls.
11. Shred the cooked chicken and keep them aside.
12. Place the pan (with the curry mixture) over medium flame.
13. Add the sugar, cabbage and beans.
14. Cook for 2 minutes or until the vegetables are tender.
15. Add the shredded chicken, coconut milk and coriander leaves.
16. Cook for another minute.
17. Pour this over the noodles.
18. Garnish with red chillies, sliced red onions, coriander leaves and bean sprouts.
19. Serve with a lime wedge.