A delicious South Indian pickle variety. Typically made during the summer months, the pickle stays good for a few months if stored properly.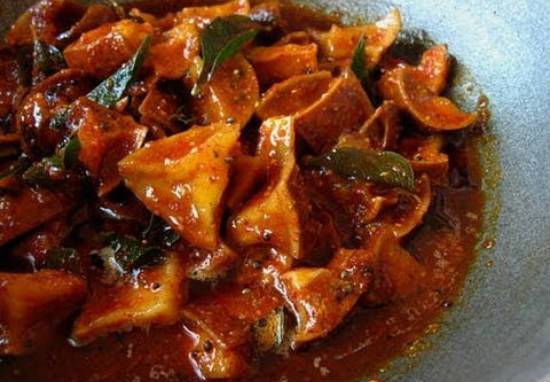 Ingredients:
Mangoes – 20, preferably very sour ones
Red Chilli Powder – 200 gms
Salt – 2 1/2 cups
Mustard Powder – 2 tblsp
Fenugreek Powder – 2 tblsp
Asafoetida – 1/2 tblsp
Gingelly Oil – 1 1/2 to 2 cups
Curry Leaves – few
Turmeric Powder – 1/4 cup
Jaggery – 2 cups, powdered
Method:
1. Chop the mangoes into small pieces.
2. Add half of the salt and turmeric powder.
3. Mix well and keep aside for 24 hours.
4. Spread the mangoes on a large plate and keep it under the sun until fully dried.
5. Dissolve the jaggery in enough water and strain well.
6. Add this to the mangoes and transfer to a large bowl.
7. Add the red chilli powder and mix well.
8. Heat gingelly oil in a pan over medium flame.
9. Fry the asafoetida and remove.
10. Drain well and grind to a fine powder.
11. Pour half of this oil over the mangoes.
12. Add the remaining salt, mustard powder, fenugreek powder and mix well.
13. Transfer this to a clear, sterilized jar.
14. Fry the asafoetida powder and curry leaves in the remaining oil and pour into the jar.
15. Mix gently and cover it with a clean cloth.
16. Keep aside for a day or two.
17. Serve.
Note: Initially the pickle will be thin/watery, but over time it will become a regular pickle.