Adai is a popular breakfast/dinner dish across South India. This is a summer variation with grated green mangoes and potatoes.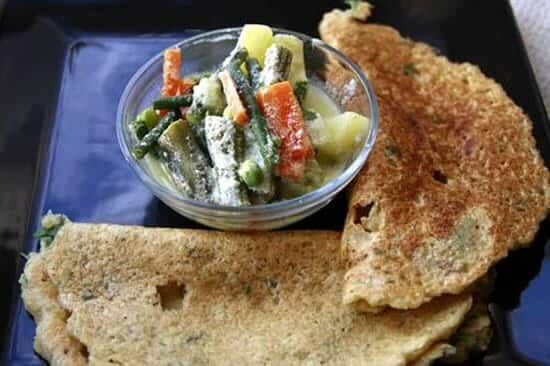 Ingredients:
Idly Rice – 4 cups
Ginger – 1 inch piece
Green Chillies – 8 to 10
Salt as per taste
Coconut – 2 to 3 tblsp, grated
Potatoes – 2
Green Mangoes – 2 (preferaly Kili Mooku Mangoes)
Mustard Seeds – little
Oil as required
Method:
1. Wash and soak the idly rice for 2 to 3 hours.
2. Grind this with the ginger, green chillies and salt to a thick, coarse batter.
3. Finely grate the mangoes and potatoes.
4. Heat little oil in a pan and saute the mangoes, potatoes and coconut for a minute or two.
5. Add this to the batter and mix well.
6. Fry the mustard seeds in little oil and pour into the batter.
7. Mix again.
8. Heat a nonstick tawa over medium flame.
9. Pour a ladleful of the batter and spread evenly.
10. Apply oil around the edges and cook on both sides until golden brown.
11. Serve hot with chutney and sambar of choice or with avial.