Summer is the season for pickles and Mango Avakkai Pickle is must have delicacy in this season. Curd rice is incomplete with this spicy and delicious pickle.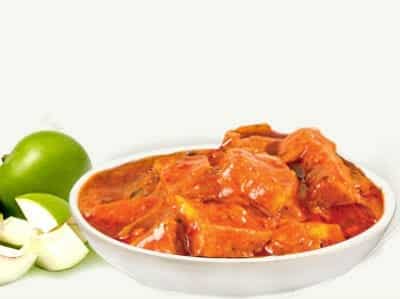 Ingredients:
Sour Mangoes – 20, big ones, inner stone removed, chopped
Mustard Seeds – 1 cup
Red Chilli Powder – 3 cups
Salt – 3 cups
Fenugreek Seeds – 2 tblsp
Asafoetida Powder – 1 tsp
Gingelly Oil – 4 cups
Turmeric Powder – 1 tsp
Method:
1. Wash and clean the mangoes well.
2. Grind the mustard seeds and salt together to a fine powder.
3. Combine this with the red chilli powder, asafoetida powder, fenugreek seeds and turmeric powder in a bowl.
4. In a glass or china clay container, add a handful of the mangoes.
5. Add an handful of the the mixed powders.
6. Repeat this until all mangoes and powders have been used up.
7. Pour gingelly oil on top and cover with a lid.
8. After 24 hours, stir once or twice with a clean, dry ladle.
9. Keep this in the sun for a day or two and then tie the mouth of the container with a clean, white cloth.
10. Keep covered for a week and then mix well.
11. Serve with curd rice.