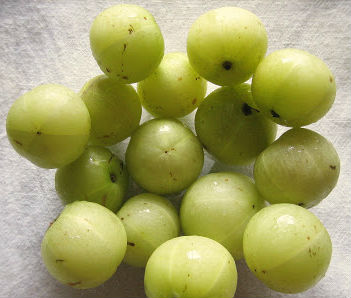 Ingredients:
Nellikai (Gooseberry) – 5 to 6
Turmeric Powder – 1/4 tsp
Red Chilli Powder – 1/2 tsp
Asafoetida Powder – a small pinch
Fenugreek Seeds – 1/2 tsp, fried and powdered
Gingelly Oil – 1 tblsp
Mustard Seeds – 1/2 tsp
Salt as per taste
Water – 1 1/2 cups
Method:
1. Bring the water to a boil.
2. Add the nellikai along with a pinch of salt and turmeric powder.
3. Simmer for 5 minutes and remove from flame.
4. Cover the pan with a lid and keep aside.
5. Remove the gooseberries and remove the seeds.
6. Transfer to a bowl and add salt, red chilli powder and asafoetida powder.
7. Mix well.
8. Heat oil in a pan.
9. Fry the mustard seeds till it starts to splutter.
10. Add the gooseberries and stir well.
11. Add the fenugreek powder and mix well.
12. Remove and store it in an airtight container.
13. Can be kept for 2 days.