Summer is fast approaching and the markets are getting filled with green mangoes and nellikais (amla/gooseberry). And this is also the season for the thokku – a popular South Indian pickle (relish) made in almost all households during the hot summer time and enjoyed with curd rice.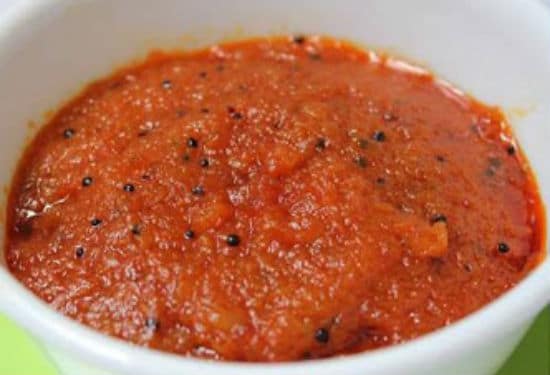 Ingredients:
Green Mango – 1, medium
Nellikai (Amla/Gooseberry) – 100 gms
Red Chilli Powder – 100 gms
Salt – 3/4 tsp
Asafoetida Powder – 1/4 tsp
Jaggery – little
Mustard Seeds – 1 to 2 tsp
Oil as required
Method:
1. Wash and finely chop the mango and nellikais.
2. Transfer to a mixer jar and grind to a semi-coarse paste.
3. Heat little oil in a pan over medium flame.
4. Fry the mustard seeds and asafoetida for 30 seconds.
5. Add the ground mango-nellikai paste.
6. Add salt and red chilli powder.
7. Stir well and cook for a few minutes.
8. Add jaggery and mix well.
9. Remove and allow it to cool.
10. Store it in a clean, sterilized bottle.