Mavadu (or Tender Baby Mangoes) is a very popular summer time variety of green mangoes used to make pickles. In this recipe, the mangoes are used to make a fried rice variety that can be served for lunch.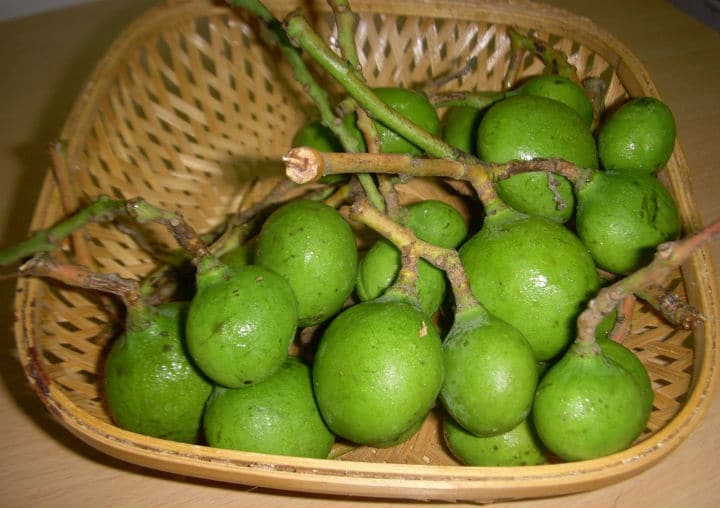 Ingredients:
Mavadu (tender baby mangoes) – 10
Boiled Rice – 2 cups
Onions – 1/2 cup, Big
Green Chillies – 2
Broken Cashews – 1 tblsp
Ginger Garlic Paste – 1 tsp
Salt to Taste
Oil – 1/4 cup
Curd – 1/4 cup
Coriander Leaves – 2 tblsp, finely chopped
Mint Leaves – 2 tblsp, finely chopped
Red Chilli Powder – 1 tblsp
Coriander Powder – 1 tsp
Garam Masala Powder – 1 tsp
Method:
Finely chop the maavadu along with the skin
Finely slice the onions and green chillies.
Heat a kadai over medium flame.
Fry the onions until golden brown and keep it separately.
To the same pan, heat oil and fry the cashews until golden brown.
Add the sliced green chillies, maavadu and saute well.
Add the ginger garlic paste, salt, red chilli powder, coriander powder and mix well.
Add the curd, chopped coriander and mint leaves and cook till a nice aroma.
When a thick paste is formed, add the boiled rice to it.
Lastly add the fried onions and mix thoroughly.
Serve hot with curd raita.