Tangy, Spicy, and Irresistibly Delicious! Sweet Lime Pickle is a zesty condiment that combines the sweetness of limes with a fiery blend of spices.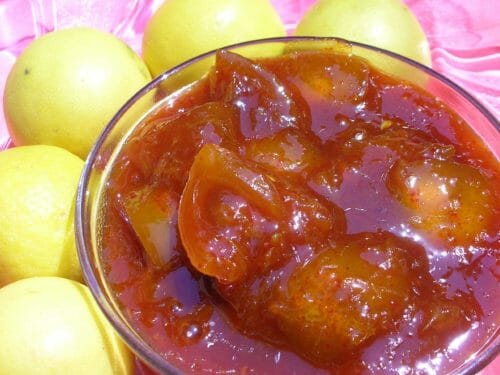 Indulge your taste buds in the tantalizing flavours of Sweet Lime Pickle. This zesty condiment combines the sweetness of ripe limes with a fiery kick of spices, resulting in a refreshing and bold pickle. The tanginess of the limes, combined with the aromatic blend of spices, creates a unique flavour profile that will excite your palate.
The Sweet Lime Pickle is a versatile accompaniment that can elevate any meal. Spread it on crispy toast, pair it with Indian flatbreads like roti or paratha, or serve it alongside your favourite rice dishes for a burst of flavour. Its tangy and spicy notes complement various dishes, including curries, biryanis, and grilled meats. You can also use it as a condiment to add a zing to sandwiches or wraps.
This delicious pickle perfectly balances sweet, sour, and spicy flavours. Combining limes, aromatic spices, and a hint of sweetness creates a harmonious blend that will leave you craving more. Whether you're a pickle enthusiast or new to the world of pickles, Sweet Lime Pickle is a must-try condiment that will add a delightful twist to your meals.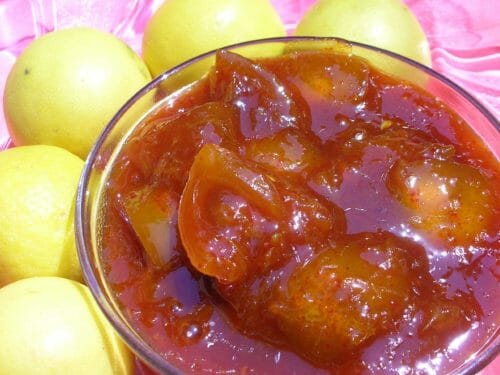 Sweet Lime Pickle

Recipe

Tangy, Spicy, and Irresistibly Delicious! Sweet Lime Pickle is a zesty condiment that combines the sweetness of limes with a fiery blend of spices.
Ingredients for
Sweet Lime Pickle
12 to 13

Ripe Lemons

1/3

cup

Salt

1

kg

Sugar

1

tbsp

Vinegar

1 1/2

cup

Water
How to make
Sweet Lime Pickle
Heat water in a pan over medium flame.

Add salt and bring to a boil.

Add the lemons and simmer until the water has reduced by half.

When the lemons open up and the juice comes out, switch off the flame.

Pour this into a clear, sterilized porcelain jar (or a bottle).

Add sugar, vinegar and stir well.

Cover tightly with a white cloth and keep aside for a week.

Stir once or twice.

Cover again and keep aside for a week.

Use as desired.

This stays good for a long time if stored properly.
Frequently Asked Questions about Sweet Lime Pickle
Can I make Sweet Lime pickles with unripe limes?
Absolutely! While traditionally made with ripe limes, you can also prepare Sweet Lime Pickles using unripe limes. Unripe limes offer a slightly different flavour profile, with a sharper tanginess that adds a unique twist to the pickle. The firm texture of unripe limes provides a satisfying crunch, making it a delightful variation to try. Ensure the limes are healthy and not overly sour for the best results. Give it a go and savour the tangy goodness of Sweet Lime Pickle made with unripe limes.
How long does Sweet Lime Pickle last?
When stored properly, Sweet Lime pickles can last for several months. The high acidity and spices in the pickle act as natural preservatives, extending its shelf life. It is essential to store the pickle in a clean, airtight jar and keep it in a cool, dark place away from direct sunlight. Use a dry spoon each time you take out the pickle to prevent moisture from entering the jar. With these precautions, your Sweet Lime Pickle can retain its flavours and quality for a long time.
Can I adjust the spice level of the Sweet Lime Pickle?
Absolutely! The spice level of Sweet Lime Pickle can be adjusted according to your preference. If you prefer a milder version, you can reduce or eliminate the red chilli powder. Alternatively, increase the red chilli powder or add a pinch of cayenne pepper for extra heat if you enjoy a fiery kick. Adjusting the spice level allows you to customize the pickle to suit your taste buds. Experiment with different spice levels until you find the perfect balance of flavours that you enjoy.
Can I use Sweet Lime Pickles in other dishes?
Definitely! Sweet Lime Pickle is a versatile condiment used in various dishes to add tangy and spicy flavours. It makes a delicious accompaniment to Indian meals, like rice dishes, curries, and biryanis. To elevate their taste, you can incorporate it into sandwiches, wraps, or salads. Sweet Lime Pickles can be served alongside grilled meats or as a dipping sauce for snacks like samosas or pakoras. Its vibrant flavours can complement a wide range of dishes, allowing you to get creative in the kitchen and explore new flavour combinations.