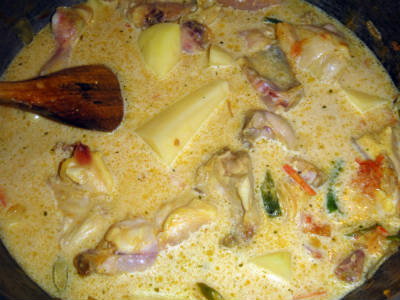 Ingredients:
Chicken – 500 gms, skinless, chopped, washed, drained
Potato – 1, peeled, cubed
Onion – 1, small, chopped
Garlic – 3 cloves, chopped
Ginger – 1/4 inch piece, chopped
Green Chillies – 2, slit
Coconut Milk – 1 cup, thick
Vinegar – 2 tsp
Oil – 1 tsp
Salt as per taste
Grind to a powder:
Green Cardamoms – 2
Cinnamon – 1/4 inch stick
Cloves – 2
For tempering:
Oil – 1 tsp
Mustard Seeds – 1/4 tsp
Green Chilli – 1
Curry Leaves – few
Method:
1. Add the chicken pieces and potatoes to a pressure cooker.
2. Add the vinegar, salt and 1 1/2 cups of water.
3. Cook for 10 minutes on low flame and switch off the heat.
4. The chicken and potatoes should be par-cooked.
5. Grind the cardamoms, cloves and cinnamon. Keep aside.
6. Heat oil in a pan over medium flame.
7. Saute the onions, garlic, ginger and green chillies till light golden.
8. Add the ground powder and fry for a minute or two.
9. Add the chicken, potatoes and the stock.
10. Add salt and simmer till the chicken is cooked.
11. Add the coconut milk and stir gently.
12. Cover the pan with a lid and simmer for another 5 to 10 minutes.
13. Heat oil for tempering in a frying pan.
14. Fry the mustard seeds, green chilli and curry leaves.
15. Add to the pan and mix well.
16. Transfer to a serving dish.
17. Serve hot with rice.
image credit: triedandtestedrecipes.com