Bottle Gourd Burfi (Lauki ki Burfi) is made during festivals or on days of fasting, this burfi is easy to make and nutritious.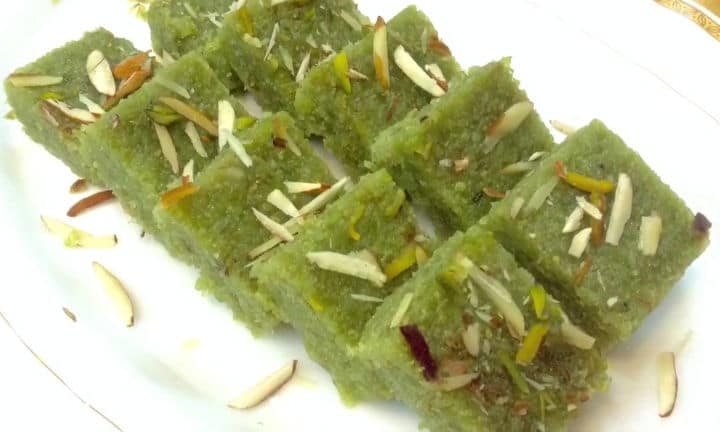 Ingredients:
Bottle gourd – 2 cups, peeled and deseeded
Coconut – 1/2 cup, grated
Maida Flour – 1/4 cup
Fried Gram Flour – 1/4 cup
Edible Green Colour – a pinch
Ghee – little
Cardamon Powder – 1 tsp
Sugar – 1 12 cup
Condensed Milk – 1/2 cup
Mixed Nuts – 2 tblsp, grated
Method:
Drain the excess water in the bottle gourd, and boil them till soft.
Saute the maida flour in a pan until golden brown.
Take a heavy pan, add sugar and water and stir until fully dissolved.
When it reaches a string consistency level, add the fried maida flour, fried gram flour, ghee, boiled bottle gourd, grated coconut to it.
Keep stirring all the while, until it stops sticking to the sides of the pan.
Add the food colour, ghee, cardamon powder, condensed milk in this stage.
When the ghee starts to separate from the pan, pour into a ghee/butter greased plate.
Decorate with mixed nuts on top and allow it to cool.
Before it sets fully, cut into your required shape.