A delicious sweet burfi with Oats and Papaya.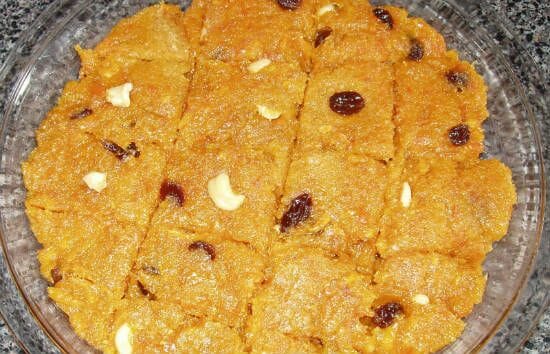 Ingredients:
Oats – 1/2 cup
Papaya – 1/2 cup, mashed to a pulp
Sugar – 1/3 cup
Ghee – 1/4 cup
Cardamom Powder – 1/2 tsp
Cashew Nuts – few
Almonds – few
Method:
1. Dry roast the oats in a pan for a minute or two.
2. Remove and grind to a powder.
3. Heat 1/2 tsp ghee in a heavy-bottomed pan over medium flame.
4. Fry the cashew nuts and almonds until light golden.
5. Remove.
6. To the same pan, add the oats, papaya and mix well.
7. After a minute, add sugar and cardamom powder.
8. Keep stirring continuously, adding ghee gradually, until it starts to leave the sides of the pan.
9. Grease a plate with some ghee and transfer the oats-papaya mixture to the plate.
10. Spread evenly.
11. Sprinkle the almonds and cashewnuts.
12. Allow it to cool.
13. Before it cools completely, cut into small pieces.
14. Store in an airtight container.