Dahi Tikka (or Aloo Dahi Tikka) is a popular North Indian street food / evening snack item. Very easy and simple to make, it is best served with a chutney of choice or ketchup.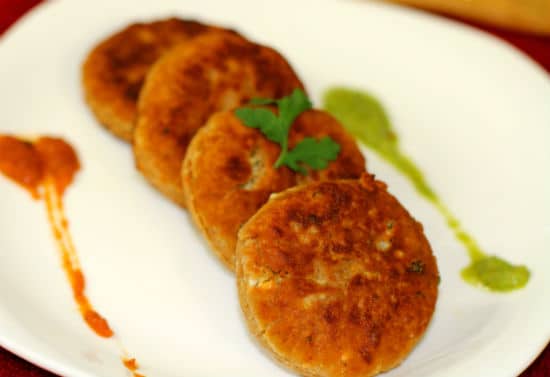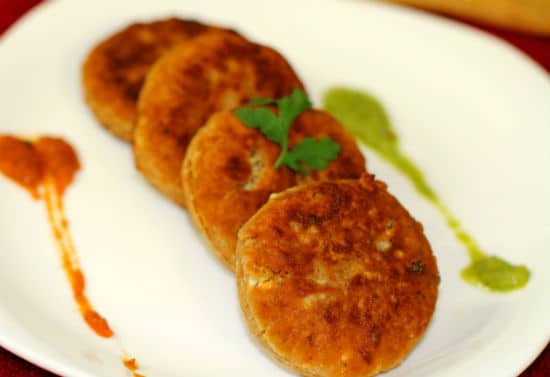 Ingredients:
Potatoes – 8
Green Chillies – 10
Garlic – 8 to 10 cloves
Ginger – 1 inch piece
Roasted Gram – 1 1/2 tblsp
Corn Flour – 1 tblsp
Red Chilli Powder – 3 tsp
Garam Masala Powder – 3 tsp
Curd – 2 cups
Saffron Strands – a pinch
Sev to garnish
Ghee as required
Salt as per taste
Method:
1. Hang the curd in a muslin cloth and allow the water to drain fully.
2. Boil, peel and mash the potatoes.
3. Finely chop the garlic, green chillies and ginger.
4. Combine the roasted gram, corn flour, red chilli powder and garam masala powder.
5. Pound this to a fine powder.
6. Add the mashed potatoes to this.
7. Add green chillies, garlic, ginger and salt.
8. Mix well and shape them into small-medium tikkis.
9. Heat a non-stick tawa over medium flame.
10. Pan-fry (or shallow fry) the tikkis on both sides until golden brown, applying ghee around the edges.
11. Transfer the tikkis to a plate.
12. Spoon over a little of the drained curd on top of each tikki.
13. Garnish with saffron and sev.
14. Serve.