A refreshingly cool syrup that quenches your thirst and cools your body.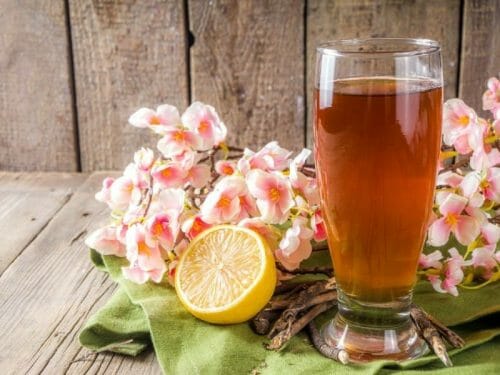 Nannari Sherbet is a popular South Indian drink made with Nannari (Indian Sarsaparilla) roots. Typically sold in Ayurvedic medicine or "Naatu Marundhu" shops, the nannari roots have many health benefits. They are a natural body coolant, act as a blood purifier, home remedy for constipation and urinary infection.
Nannary roots are called as Anantamul in Hindi, Naruneedi in Malayalam, Sugandhi in Telugu, Anamtamula in Kannada and Hemidesmus indicus in the scientific community.
Nannari is an Ayurvedic herb used for calming Pitta dosha, reducing burning sensations, diarrhea, dysentery and fever. This herb is also a tonic and strengthens the immune system. It can be used to treat symptoms of general debility.
It's also an excellent diuretic that can be used when treating urinary tract infections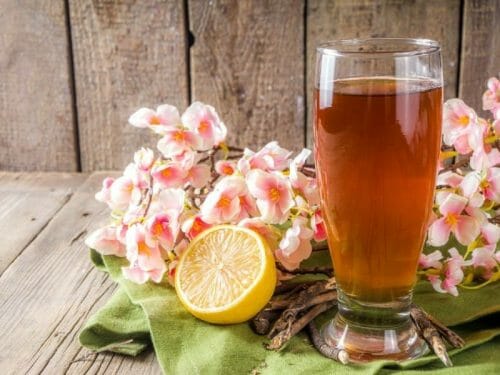 Nannari Sherbet

Recipe

A refreshingly cool syrup that quenches your thirst and cools your body.
Ingredients for
Nannari Sherbet
For the Nannari Syrup:
100

g

Nannari Roots (Sarsaparilla)

1000

ml

Water

500

g

Sugar

1

Lemon
For the Sherbet:
6

tbsp

Nannari Syrup

1 1/2

cup

Water

1 1/4

tbsp

Lemon Juice

few

Ice Cubes
How to make
Nannari Sherbet
Wash the nannari roots well.

Lightly crush and discard the inner thick roots. Use only the barks.

Break them into one or two pieces and grind to a fine powder.

Bring the water to a boil.

Switch off the flame and add the nannari powder.

Cover and keep aside for 8 to 12 hours.

Strain this mixture into a broad vessel.

Add sugar and place it over medium flame.

Simmer till it reaches an one-string consistency.

Remove and cool.

Squeeze the lemon and mix well.

Cool completely before storing it in a sterilized glass bottle.

Keep it in the fridge until required.

To make the sherbet, mix the mentioned ingredients and serve chilled.

The syrup stays good for a month or two if kept in the fridge.
Notes
These days you can buy readymade Nannari Syrup in most major supermarkets. Nearly all of the commercial ones contain artificial flavouring ingredients.
Frequently Asked Questions (FAQ) about Nannari Sherbet
What is Nannari Sherbet, and how is it made?
Nannari Sherbet is a refreshing Indian summer drink made from the extract of the Nannari root (Indian Sarsaparilla). It is known for its cooling properties and unique flavor. To make Nannari Sherbet, the Nannari root extract is mixed with sugar syrup, water, and a squeeze of lemon juice. The resulting drink is sweet and aromatic and has hints of herbal undertones. Some variations of Nannari Sherbet include adding rose syrup or basil seeds for added flavour and texture. It is often served chilled and can be enjoyed as a standalone beverage or mixed with soda or sparkling water for a fizzy twist. Nannari Sherbet is a popular summer cooler in South India and is cherished for its thirst-quenching and rejuvenating qualities.
Can I make Nannari Sherbet without sugar?
You can make Nannari Sherbet without sugar by using natural sweeteners or sugar substitutes. Instead of regular sugar, you can opt for healthier alternatives like jaggery (unrefined cane sugar), honey, or stevia. These options provide sweetness while adding a unique flavour profile to the sherbet. Adjust the quantity of the sweetener according to your taste preferences. Additionally, you are looking for a low-sugar or sugar-free version. In that case, you can reduce the amount of sweetener used or omit it entirely, relying on the natural sweetness of the Nannari root extract and the tanginess of the lemon juice. Experiment with different sweeteners to create a customized version of Nannari Sherbet that suits your dietary needs and preferences.
Can I add other flavours or ingredients to Nannari Sherbet?
Absolutely! Nannari Sherbet can be enhanced by adding various flavours and ingredients to create unique variations. Some popular additions include rose syrup, which imparts a floral note, or a splash of lime or orange juice to add a citrusy twist. You can also experiment with spices like cardamom or ginger for a hint of warmth and complexity. Adding soaked basil seeds (sabja seeds) can also provide the sherbet with a fun and textural element. If you're feeling adventurous, combine Nannari Sherbet with other fruit juices such as pineapple, mango, or watermelon for a delightful fusion drink. These variations allow you to personalize the flavour profile of Nannari Sherbet and create a refreshing beverage that suits your taste preferences.
Can I make Nannari Sherbet in advance and store it?
You can make Nannari Sherbet in advance and store it in the refrigerator. To ensure freshness and optimal taste, prepare the sherbet base by combining the Nannari root extract, sweetener, and lemon juice. This base can be stored in an airtight container in the refrigerator for a few days. When you are ready to serve, dilute the desired amount of the sherbet base with chilled water, mix well, and serve over ice. It's a convenient option for parties, picnics, or hot summer days when you want to enjoy a refreshing drink without the hassle of preparation. Nannari Sherbet stored in the refrigerator retains its flavours and rejuvenating qualities, providing an excellent and revitalizing experience whenever you indulge.