A refreshingly cool syrup that quenches your thirst and cools your body.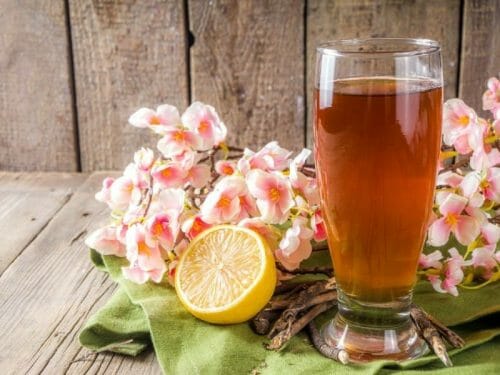 Nannari Sherbet is a popular South Indian drink made with Nannari (Indian Sarsaparilla) roots. Typically sold in Ayurvedic medicine or "Naatu Marundhu" shops, the nannari roots have many health benefits. They are a natural body coolant, act as a blood purifier, home remedy for constipation and urinary infection.
Nannary roots are called as Anantamul in Hindi, Naruneedi in Malayalam, Sugandhi in Telugu, Anamtamula in Kannada and Hemidesmus indicus in the scientific community.
Nannari is an Ayurvedic herb used for calming Pitta dosha, reducing burning sensations, diarrhea, dysentery and fever. This herb is also a tonic and strengthens the immune system. It can be used to treat symptoms of general debility.
It's also an excellent diuretic that can be used when treating urinary tract infections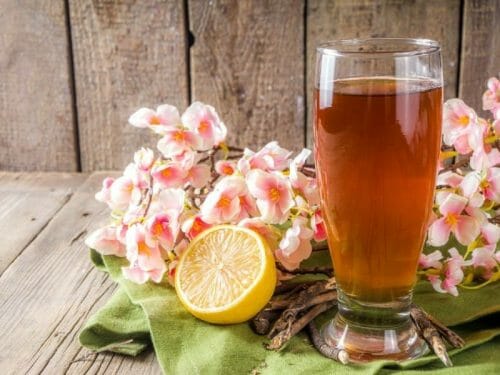 Nannari Sherbet

Recipe

A refreshingly cool syrup that quenches your thirst and cools your body.
Ingredients for
Nannari Sherbet
For the Nannari Syrup:
100

g

Nannari Roots (Sarsaparilla)

1000

ml

Water

500

g

Sugar

1

Lemon
For the Sherbet:
6

tbsp

Nannari Syrup

1 1/2

cup

Water

1 1/4

tbsp

Lemon Juice

few

Ice Cubes
How to make
Nannari Sherbet
Wash the nannari roots well.

Lightly crush and discard the inner thick roots. Use only the barks.

Break them into one or two pieces and grind to a fine powder.

Bring the water to a boil.

Switch off the flame and add the nannari powder.

Cover and keep aside for 8 to 12 hours.

Strain this mixture into a broad vessel.

Add sugar and place it over medium flame.

Simmer till it reaches an one-string consistency.

Remove and cool.

Squeeze the lemon and mix well.

Cool completely before storing it in a sterilized glass bottle.

Keep it in the fridge until required.

To make the sherbet, mix the mentioned ingredients and serve chilled.

The syrup stays good for a month or two if kept in the fridge.
Notes
These days you can buy readymade Nannari Syrup in most major supermarkets. Nearly all of the commercial ones contain artificial flavouring ingredients.