Dive into Delight with Parwal and Potato Curry!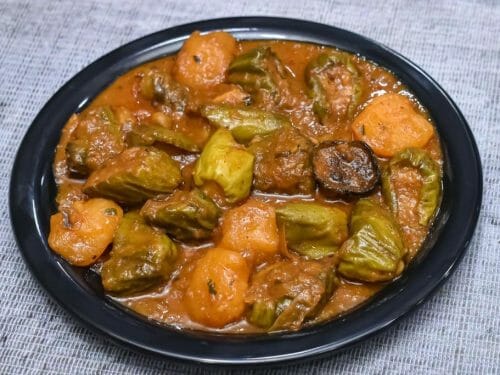 Embark on a culinary journey with the enticing Parwal and Potato Curry recipe. This dish marries the humble parwal (pool) and hearty potatoes with an array of aromatic spices, creating a symphony of flavours that will tantalize your taste buds.
The tender parwal and potatoes are lovingly prepared, each playing a role in this tantalizing curry. The spices, from cumin to coriander and turmeric, come together to create a vibrant masala paste that forms the heart of the dish. As you sauté the masala paste with the tomatoes, your kitchen savours in an irresistible aroma that promises a mouthwatering feast.
The key to the success of this curry is the balance—of textures, flavours, and spices. The dish is simmered to perfection, allowing the vegetables to absorb the essence of the spices, creating a thick and comforting gravy perfect for sopping up with rice or chapatis.
Parwal and Potato Curry isn't just a meal; it embodies culinary harmony. The sugar's sweetness counterbalances the tomatoes' tanginess, while the garam masala adds a final touch of complexity that elevates the dish to new heights.
Whether you're looking to spice up your weeknight dinner routine or impress your guests with an authentic Indian dish, Parwal and Potato Curry is a fantastic choice. Its warmth and heartiness make it an ideal comfort food, while its intricate blend of spices guarantees a memorable dining experience.
For those seeking a taste of traditional Indian cuisine with a twist, this curry delivers on all fronts. It's a perfect introduction to curries, offering a well-rounded mix of flavours that will leave you craving more.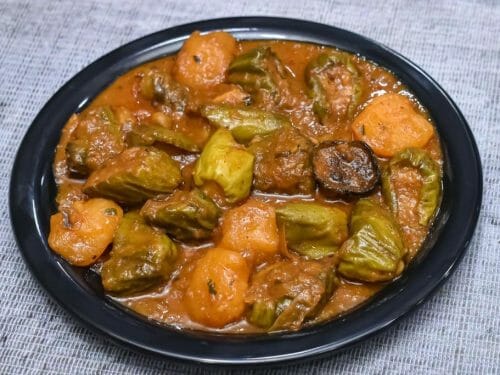 Parwal and Potato Curry

Recipe

Dive into Delight with Parwal and Potato Curry!
Ingredients for
Parwal and Potato Curry
250

gms

Parwal

Green Brinjal

2

pcs

Potatoes

2

pcs

Tomatoes

1

inch

piece of Ginger

1

tbsp

Coriander Powder

1 1/2

tsp

Cumin Powder

1/2

tsp

Turmeric Powder

1/2

tsp

Chilli Powder

1/2

tsp

Cumin Seeds

1

pc

whole Red Chilli

1/2

tbsp

Sugar

1

Bay Leaf

1

tsp

Garam Masala Powder

Salt - to taste

3

tbsp

Oil
How to make
Parwal and Potato Curry
Cut the parwal into halves. Peel and dice the potatoes.

In a kadai, lightly fry the parwal and potatoes separately in a little oil. Set them aside.

Grind ginger into a smooth paste with a teaspoon of water. Add chilli powder, turmeric powder, cumin powder, and coriander powder to this paste, creating a thin spice paste.

Heat oil in a pan; add cumin seeds and broken red chilli. Once they crackle, add the masala paste and tomatoes. Fry until the tomatoes blend into the masala.

Add the fried vegetables, sugar, and salt. Pour around 3 cups of water and simmer on low heat until the vegetables are cooked and the gravy thickens.

Sprinkle garam masala and remove from heat.

Serve the aromatic Parwal and Potato Curry with rice or chapatis.
Serving Size: 4 servings
Frequently Asked Questions (FAQ):
Can I adjust the spiciness of this curry?
Absolutely! The level of spiciness can be adjusted by altering the amount of chilli powder used. To make it milder, reduce the chilli powder, or you can even omit the whole red chilli.
What's the best way to serve this curry?
Parwal and Potato Curry pairs perfectly with steamed white rice, fragrant jeera rice, or Indian breads like chapatis or parathas. The combination of flavours is truly delightful.
Can I make this curry ahead of time?
Certainly! In fact, curries often taste even better after some resting time as the flavors meld. Just reheat gently before serving.
Is there a vegan version of this curry?
Absolutely, this curry is inherently vegan! It's a great option for those looking for plant-based meals rich in flavour and texture.
Can I use different vegetables in this curry?
Certainly! While parwal and potatoes are the stars of this recipe, you can experiment with other veggies like carrots, peas, or bell peppers to create your own flavorful variations.