Indulge in the irresistible crunch of Sankara Fish Fry, where tender fish meets a delectable medley of spices. This South Indian favourite is a perfect harmony of flavours and textures.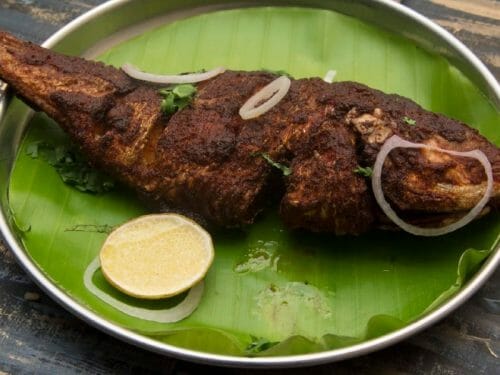 Sankara Fish Fry is a very popular fish fry recipe from Tamilnadu. Sankara Meen is also known as Red Snapper (English) or Aarass ki Macchi (Bengali).
Sankara Fish or Red Snapper is pretty popular and easy to source. It gets its name from the the pinkish hue of its body and the sharp snapper like jaw and big eyes. The flesh is white, delicate and mild. It is moist and has a mildly sweet and fresh taste. Some of the popular ways of cooking this fish would be broiling, grilling, frying or cooking it as a curry. Sankara Fish is a low-calorie, lean source of protein that is rich in selenium, vitamin A, potassium and omega-3 fatty acids.
As always with fish, the best ones are those that are freshly caught. It also helps if you know a local fisherman who can get you the catch of the day. If you don't have access to any such benefits, don't fret, here are some tips you can adopt to make sure your seafood is worth the money you pay.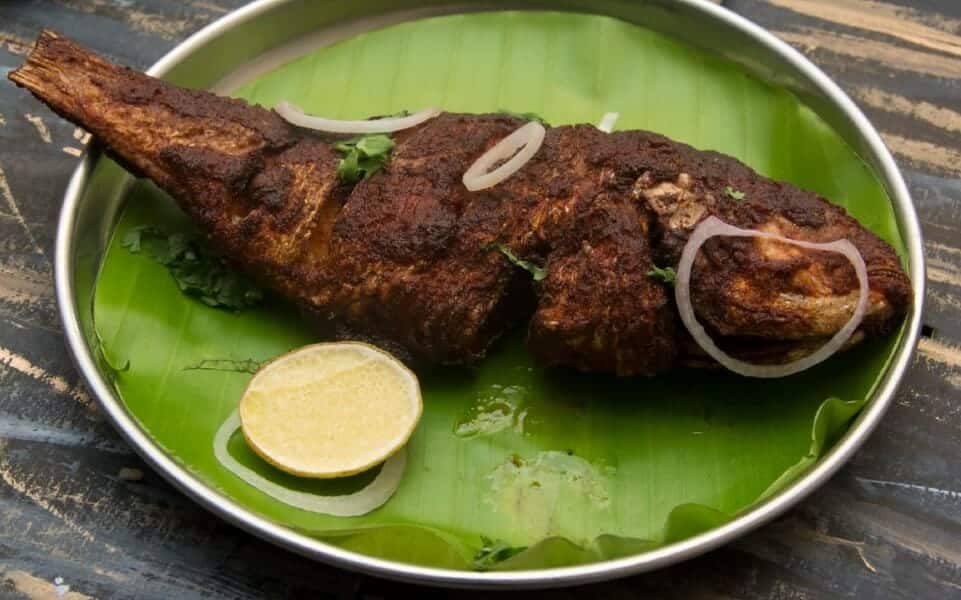 As mentioned earlier, the Sankara Fish's eyes need to look bright and big. If the eyes are glazed or look dehydrated, it's best to stay away from it.
It should smell fresh, mild and pleasant.
The backbone of the fish should indicate a bright colour. This is a sure shot indication that you have nailed the right fish.
In this typical Tamil recipe, the aroma and taste is purely because of the masala ingredients used. I've used Kashmiri red chillies to give the bright red colour and mild spiciness. If you love it spicy, feel free to substitute half the Kashmiri red with the regular long red chillies. You can also try some of our other fish recipes like Chettinad Fish Fry, Vanjaram Meen Varuval, or Beer and Vodka Battered Fish Fingers.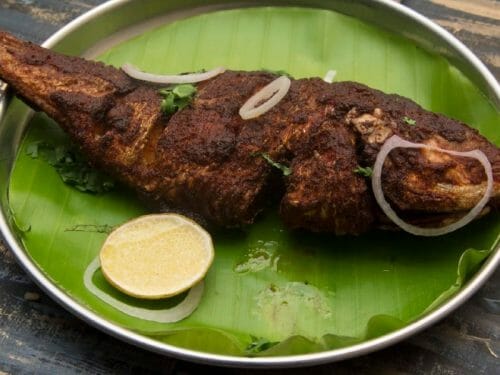 Sankara Fish Fry
Indulge in the irresistible crunch of Sankara Fish Fry, where tender fish meets a delectable medley of spices. This South Indian favourite is a perfect harmony of flavours and textures.
Ingredients
500

g

Sankara Fish

5

tbsp

Gingelly/Sesame Oil

1/2

tsp

Cumin Seeds

1/2

tsp

Fenugreek Seeds

5

Garlic Cloves

6

Shallots

as per taste

Salt
To Grind:
25

g

Kashmiri Red Chillies

25

g

Coriander Seeds

25

g

Cumin Seeds

25

g

Black Peppercorns

a small piece

Ginger

7 to 8

Garlic Cloves

as required

Salt
Instructions
Thoroughly clean the fish and make small cuts on its body so it absorbs the flavour.

Grind all the ingredients under the "To Grind" list to a fine paste adding a little water.

Apply this paste over the fish and marinate for a while.

Heat a dosa tawa or frying pan on medium flame.

Heat the gingelly oil and add the cumin seeds, fenugreek seeds, finely chopped garlic, shallots.

Stir fry until the raw smell disappears.

Now add the marinated fish and fry them till golden brown.

Serve hot.
Frequently Asked Questions (FAQ) about Sankara Fish Fry
What is the best type of fish for the Sankara Fish Fry?
The best kind of fish for the Sankara Fish Fry is the Sankara fish itself, also known as Red Snapper. Sankara fish has a firm and flaky texture with a mild and sweet flavour, making it ideal for frying. However, if Sankara fish is not available, you can also use other similar white fish varieties like Tilapia or Seer fish (Neymeen) as alternatives. These fish types have a similar texture and taste and will work well for this recipe.
Can I use frozen fish for Sankara Fish Fry?
While it is recommended to use fresh fish for the best flavour and texture, you can also use frozen fish for Sankara Fish Fry if it is unavailable. When using frozen fish, thaw it thoroughly and pat it dry before marinating and frying. This will help remove excess moisture and ensure a crispy and golden crust. However, remember that frozen fish's texture may differ slightly from fresh fish's. If possible, opt for fresh fish to achieve the best results.
How can I make Sankara Fish Fry less spicy?
You can adjust the spice level to suit your taste if you prefer a milder version of Sankara Fish Fry. One way to make it less spicy is by reducing the amount of red chilli powder or using a milder variety of chilli powder. You can also decrease the number of other spices like black or cayenne. Alternatively, you can marinate the fish for a shorter duration to reduce the intensity of the herbs. Another option is to serve the fish fry with a cooling and refreshing side dish like cucumber raita or mint chutney, which can help balance the spice and provide a cooling effect.
Can I bake Sankara Fish instead of frying it?
While the traditional method of preparing Sankara Fish Fry involves frying, you can try baking it as a healthier alternative. To bake the fish:
Preheat your oven to a moderate temperature and place the marinated fish on a baking sheet lined with parchment paper.

Bake it for approximately 15-20 minutes or until the fish is cooked through and has a golden brown crust.

Remember that the texture and taste may differ slightly from the fried version.
However, it can still be delicious and enjoyable.
What are some suitable accompaniments for Sankara Fish Fry?
Sankara Fish Fry is typically served as an appetizer or a side dish and pairs well with various accompaniments. Some popular options include lemon wedges or slices, onion rings, and mint chutney. You can also serve it with steamed rice, rasam, or sambar to make it a part of a complete meal. Additionally, crispy french fries or a fresh salad can contrast the flavours and textures. If you enjoy the combination of fish fry with a tangy and spicy taste, you can serve it with a side of tamarind chutney or spicy tomato sauce for an extra kick.