A delicious Bengali fish marinated in a mustard paste, wrapped in banana leaves and steam cooked.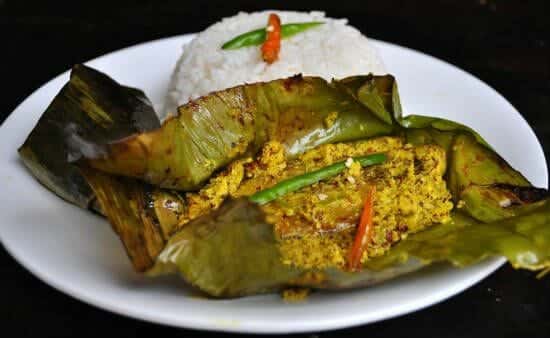 Ingredients:
Bhetki (Barramundi) Fillets – 250 gms (you can also use red snapper or salmon)
Mustard Oil – 100 ml
Nigella Seeds (Kalonji) – 3 tblsp
Turmeric Powder – 2 tsp
Red Chilli Powder – 2 tsp
Banana Leaves – 6 to 8
Mustard Paste – 1/4 cup
Sugar – 1/2 tsp
Salt as per taste
Method:
1. Cut the fish fillets into small/medium squares.
2. Mix the nigella seeds, red chilli powder, turmeric powder, 2 tsp salt and 3 to 4 tblsp mustard oil in a bowl.
3. Add the fish pieces and mix until evenly coated.
4. Cover and keep them in the fridge for 2 hours.
5. Remove the fish from the fridge and mix with sugar, mustard paste and remaining oil.
6. Stir gently, cover and keep it back in the fridge for 1 hour.
7. Gently warm the banana leaves over an open flame for 30 seconds, ensuring it does not get burnt.
8. Add the marinated fish pieces to the banana leaves and fold them well.
9. Secure the edges with toothpicks and steam cook for 20 to 30 minutes.
10. Serve hot.