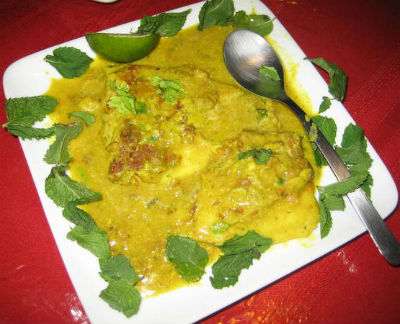 Ingredients:
Fish Fillets – 500 gms (catfish, rohu or carp), cubed
Salt – 1/2 tsp
Turmeric Powder – 3/4 tsp
Red Chilli Powder – 3/4 tsp
Chickpea Flour – 1 tblsp
Oil for deep frying
Juice of 1/2 Lemon
For the sauce:
Ghee – 1 1/2 tblsp
Onion – 1 small or 1/2 medium, finely chopped
Cumin Powder – 1/2 tsp
Turmeric Powder – 1/2 tsp
Red Chilli Powder – 1/2 tsp
Salt as per taste
Ginger – 1/2 inch piece, finely chopped
Green Chilli – 1, slit lengthwise
Plain Yogurt – 250 gms
Chickpea Flour – 3 to 4 tblsp
Water – 1/2 cup
Fenugreek Leaves – 1/4 tsp, dried, crumbled
Garam Masala Powder – 1/4 tsp
Method:
1. In a bowl, mix turmeric powder, lemon juice and salt.
2. Marinate the fish pieces in this mixture for 10 to 15 minutes.
3. Sprinkle chilli powder and chickpea flour on top.
4. Mix well and ensure the fish is coated well with the mixture.
5. Heat oil in a deep frying pan.
6. Deep fry the fish till golden brown.
7. Remove and drain excess oil.
8. Place the fish in an ovenproof dish and keep warm in a preheated oven at 275F/140C.
9. Heat ghee in a pan.
10. Saute the chopped onion till golden brown.
11. Add the cumin powder, turmeric powder, chilli powder and salt.
12. Saute for a few seconds and add the ginger and green chilli.
13. Cook for a minute.
14. Mix the yogurt and chickpea flour in a bowl.
15. Add the yogurt mixture to the pan, stirring constantly.
16. Increase heat and simmer for 2 to 3 minutes.
17. Add the fish pieces and cook over low heat for a few minutes.
18. Add salt, fenugreek leaves and garam masala powder.
19. Cover the pan with a lid and cook for 45 seconds to 1 minute.
20. Remove and garnish with coriander leaves.
21. Serve hot with cooked rice.
Image credit: muktis kitchen