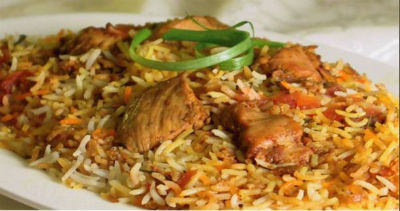 Ingredients:
Minced Lamb – 500 gms
Rice – 1 cup
Ghee – 7 to 8 tblsp
Red Chilli Powder – 2 tsp
Garlic Paste – 2 tsp
Ginger – 2 one inch piece, grated
Yogurt – 6 to 8 tblsp
Onion Paste – 2 tblsp
Cumin Seeds – 1/2 tsp
Coriander Powder – 2 tsp
Cinnamon Powder – a pinch
Mace Powder – a pinch
Onions – 1/2 cup, finely sliced
Moong Dal – 1/2 cup
Salt as per taste
Method:
1. Heat 3 tblsp ghee in a heavy-bottomed pan.
2. Add the lamb mince, red chilli powder, garlic paste, 1/2 grated ginger, yogurt and onion paste.
3. Fry till well browned.
4. Mix coriander powder, cinnamon powder, mace powder, red chilli powder and cumin seeds with a little water.
5. Add to the pan and cover with a lid.
6. Cook on dum till the mince is tender and dry.
7. Heat the remaining ghee in a separate pan.
8. Fry the onions till golden.
9. Remove and keep aside.
10. Fry the rice and moong dal with the remaining ginger.
11. Add water and salt.
12. Boil till rice is half done.
13. Cover with a lid and cook on dum till almost done.
14. Spread the rice-dal mixture over the mince.
15. Put the fried onions on top and cook covered for 30 to 45 minutes.
16. Sprinkle a little water if required.
17. Blend well before serving.
18. Serve hot.
Note: image is for illustration purposes only and not that of the actual recipe.