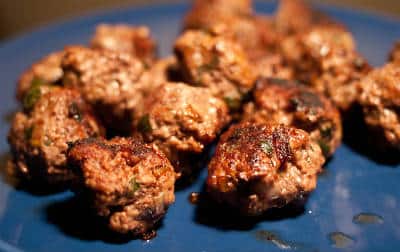 Ingredients:
Lamb – 350 gms, ground
Egg – 1, large
Tomatoes – 2 cups, finely chopped
Breadcrumbs – 1/2 cup
Mint Leaves – 2 tblsp, chopped
Parsley – 2 tblsp, chopped
Garlic – 1 clove, minced
Worcestershire Sauce – 1 tblsp
Salt – 1/2 tsp
Red Chilli Flakes – a small pinch
White Wine – 1/4 cup
Olive Oil as required
Method:
1. Combine the lamb, breadcrumb, egg, mint leaves, parsley, garlic, worcestershire sauce, salt and red chilli flakes in a bowl.
2. Mix well until all the moisture has gone.
3. Shape the mixture into 1 to 2 inch meatballs and place them on a plate.
4. Cover with a parchment paper and keep the plate in the fridge for 30 minutes.
5. Heat little oil in a pan over medium flame.
6. Pan fry the meatballs in batches until well browned on all sides.
7. Drain off any fat and pour the wine to the pan.
8. Shake the pan once or twice.
9. Add the tomatoes and gently mix, ensuring the meatballs do not break.
10. Reduce flame and cover the pan with a lid.
11. Simmer until the meatballs are cooked, about 15 minutes.
12. Switch off the flame and keep aside for 5 minutes.
13. Serve.