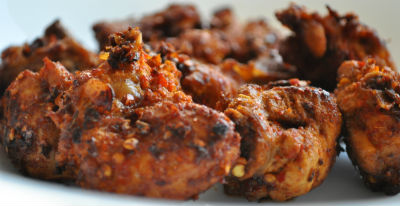 Ingredients:
Chicken – 500 gms, cleaned, few incisions made
Tomatoes – 2, chopped
Onions – 2, medium, sliced
Red Chilli Powder – 1 1/2 tsp
Coriander Powder – 2 1/2 tsp
Turmeric Powder – 1/8 tsp
Black Pepper Powder – 1/2 tsp
Garam Masala Powder – 1 tsp
Ginger Garlic Paste – 4 tsp
Green Chillies – 3
Soy Sauce – 1 1/2 tblsp
Oil – 2 tblsp
Curry Leaves – few, chopped
Method:
Combine the coriander powder, chilli powder, turmeric powder, pepper powder, 1/2 tsp garam masala powder and salt.
Add half of the ginger garlic paste and mix well.
Rub this paste all over the chicken – inside and outside and marinate for 60 minutes.
Heat oil in a pan.
Add the onion, green chillies, curry leaves and fry till onions turn brown.
Add the remaining ginger garlic paste and garam masala powder.
Mix and add the tomatoes.
Cook till oil starts to float on top.
Now add the soy sauce and marinated chicken.
Pour 1/4 cup of water and cover the pan.
Cook for a few minutes till the chicken is roasted.
Remove and serve hot.

Note: image is for illustration purposes only and not that of the actual recipe.