A delicious way to start your day with a Mexican-style breakfast dish packed with protein.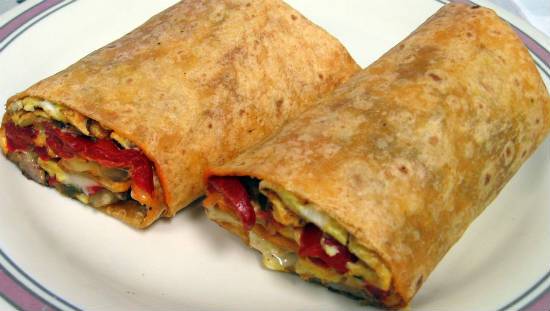 Ingredients:
Eggs – 3
Flour Tortillas – 2
Red Kidney Beans (Rajma) – 100 gms (optional)
Tomatoes – 1/4 cup, chopped (optional)
Red Capsicum – 3 tblsp, chopped (optional)
Spring Onions – handful, chopped
Cheese – 1/2 cup, grated
Fresh Cream – 2 to 3 tblsp
Coriander Leaves – big handful, chopped
Butter – 2 tblsp
Salt as per taste
Black Pepper Powder as per taste
Method:
1. Soak the kidney beans for 6 to 8 hours or overnight preferably.
2. Drain and wash well.
3. Heat butter in a pan over medium flame.
4. Saute the spring onions, tomatoes, capsicums and kidney beans for 2 minutes.
5. Beat the eggs in a bowl.
6. Add the cream and coriander leaves.
7. Pour the egg mixture over the beans and cook until set, stirring from time to time.
8. Add the cheese and cook until fully melted.
9. Sprinkle salt and pepper powder.
10. Stir once and remove.
11. Heat a tawa over medium flame.
12. Warm up the tortillas.
13. Add the egg mixture into each tortilla and roll them up tightly.
14. Place them back into the pan and cook for 30 seconds.
15. Serve.
Tip: Instead of tortillas, you can also use leftover chapatis.