Tacos are a popular Mexican food as an appetizer or as a meal by themselves.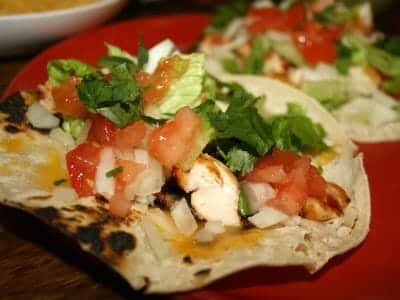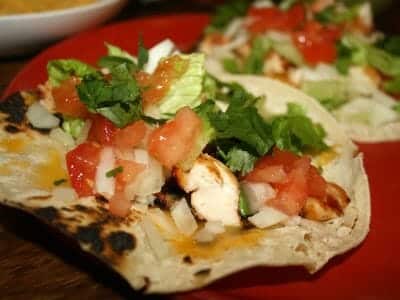 Ingredients:
Chicken Breast – 1, boneless, skinless
Lettuce – 1/2 cup, shredded
Tomato – 1, small, chopped
Cheese – 3/4 cup, shredded
Taco Sauce as required
Sour Cream as required
Lime Slices to garnish
Tortillas – as required, cooked
Mint Leaves – few, chopped
Coriander Leaves – few, chopped
Oil – 2 tsp
For the Spice Rub:
Pepper Powder – 1 tblsp
Onion Powder – 1/2 tblsp
Red Chilli Powder – 1/4 tblsp
Garlic Powder – 1/4 tblsp
Sea Salt – 1/4 tsp
Dried Oregano – 1/4 tblsp
Method:
1. Mix the spice rub ingredients in a bowl.
2. Place the chicken breast on a flat surface and sprinkle 3/4 (to 1) tblsp of the spice rub on top and rub well.
3. Heat oil in a frying pan over medium flame.
4. Add the chicken breast and cook for 5 minutes on each side.
5. Transfer to a preheated oven at 200C/400F and cook for another 8 minutes or until chicken is cooked.
6. Remove and cool.
7. Once cooled, cut the chicken breast into bite-sized pieces (or slices).
8. Place a tortilla on a flat surface.
9. Spread the taco sauce and scatter the lettuce on top.
10. Place the sliced chicken breasts, tomatoes, cheese and sour cream on top.
11. Garnish with mint and coriander leaves.
12. Serve with a lime slice.