A delicious, simple and tasty Mexican dish, this Chicken Burritos makes for an awesome weekday lunch dish.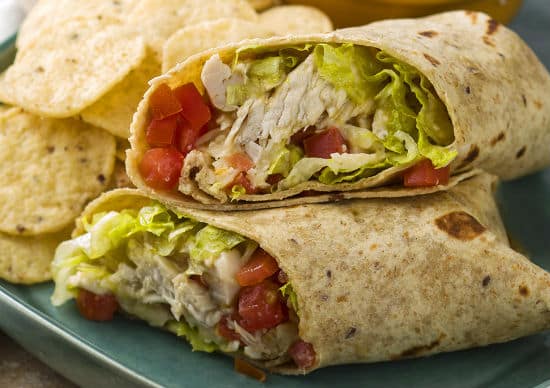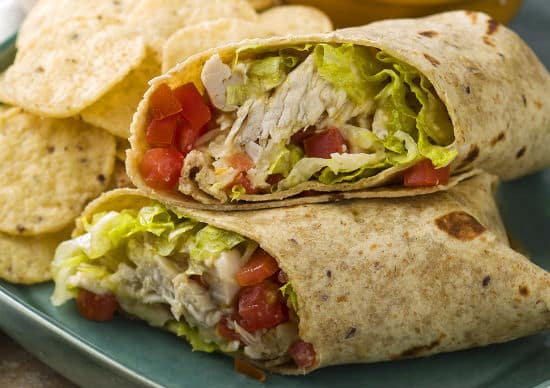 Ingredients:
Chicken – 300 gms, cooked, shredded, skinless, boneless
Sweet Corn Kernels – 150 gms, boiled, drained
Black Beans (or Red Kidney Beans) – 150 gms, rinsed, boiled, drained
Tomatoes – 150 gms, finely chopped
Flour Tortillas – 4
Green Chillies – 2 to 3, chopped
Jalapenos – 1 tblsp, chopped
Red Chilli Flakes as per taste
Garam Masala Powder – 2 tsp
Black Pepper Powder as per taste
Salt as per taste
Coriander Leaves – handful, chopped
Cheese – 100 gms, grated
Optional:
Sour Cream
Lettuce – handful, shredded
Tomatoes – 1/2 cup, chopped
Method:
1. In a large bowl, combine the corn, black beans, tomatoes, green chillies, coriander leaves and jalapenos.
2. Add the cooked chicken and mix well.
3. Add the red chilli flakes, garam masala powder, black pepper powder, salt and toss gently.
4. Warm the tortillas and place them on a flat surface.
5. Divide the chicken mixture equally among the 4 tortillas.
6. Sprinkle some cheese on top.
7. If desired, add some sour cream, lettuce and chopped tomatoes.
8. Fold from the sides and roll tightly.
9. Heat a nonstick pan over medium flame.
10. Place the burritos on the pan and warm them up for 3 to 5 minutes, turning gently once or twice.
11. Serve.
Tip: Steps #9 and #10 are optional. You can serve the burritos without warming them up.