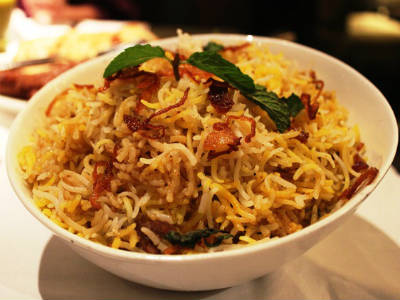 This biryani is quite popular in Lucknow and is also known as Lucknow Biryani or Lucknowi Biryani.
Ingredients:
Chicken – 1, medium, skinless, chopped into bite-sized pieces
Wheat Flour – 1 cup
Basmati Rice – 250 gms, washed
Cinnamon – 1/4 inch stick
Cardamoms – 2 (1 green and 1 brown)
Cloves – 2
Black Peppercorns – 3
Salt as per taste
Coriander Leaves – handful, chopped
Saffron Strands – 1/2 tsp, mixed with 1/4 cup of warm milk
Butter
For the marinade:
Onions – 2, finely sliced or julienned
Cinnamon – 1/4 inch stick
Cloves – 3
Cardamoms – 2 (1 brown and 1 green)
Black Cumin Seeds – 1/4 tsp
Bay Leaf – 1, small
Curd – 1/2 cup, whisked
Ginger Garlic Paste – 1 1/2 tsp
Turmeric Powder – 1/4 tsp
Red Chilli Powder – 1/2 tsp
Oil – 1/2 cup
Method:
1. Heat oil in a pan over medium flame.
2. Fry the onions till dark brown and remove.
3. Drain excess oil and allow them to cool. Reserve the oil.
4. Dry roast the cinnamons, cloves, cardamoms, bay leaf and cumin seeds.
5. Then grind them to a fine powder.
6. Transfer half of the onions and ground powder to a bowl.
7. Add the curd, ginger garlic paste, turmeric powder, red chilli powder and mix well.
8. Add the chicken pieces and mix well until evenly coated.
9. Cover and keep the bowl in the fridge for 5 hours.
10. Add the rice to a pressure cooker along with the cinnamon stick, cardamoms, cloves, peppercorns and 1/2 tsp salt.
11. Pour 2 litres of water and cook till the rice is 3/4th done.
12. Remove and spread it out on a plate to cool.
13. Heat a heavy-bottomed pan over medium flame.
14. Add 1 tblsp of the reserved oil.
15. Remove the chicken from the fridge and keep aside for 10 minutes.
16. Sprinkle salt all over.
17. Add the chicken pieces to the hot oil and fry till light golden brown.
18. Reduce heat and add any of the remaining marinade to the oil.
19. Cook till the chicken is half done and the gravy is thick.
20. Switch off the flame and mix well.
21. In a large pot, make a layer of the chicken.
22. Sprinkle some coriander leaves and some of the fried onions.
23. Add the rice on top.
24. Pour the saffron milk on top and sprinkle the remaining onions.
25. Add a dollop of butter and some more coriander leaves.
26. Add enough water to the wheat flour and knead well to a firm, pliable dough.
27. Roll it into a long rope like shape and use that to seal the edges of the pot lid.
28. Ensure the entire rim/mouth is covered and cover with a lid.
29. Seal it off completely with the remaining roll.
30. Place the pot on high flame and cook for 5 minutes.
31. Then reduce the flame to low and simmer for 30 minutes.
32. Switch off the flame and keep aside for 10 minutes.
33. Break the seal and serve the biryani with raita of choice.
image credit: walkthroughindia.com