Indian cuisine is so very popular for its quintessential strong taste. This strong taste comes from the herbs and spices that are predominantly used in all the dishes. This strong, spicy flavor is what makes mostly all Indian cuisines unique. Indians always believe that their cuisine is strongly influenced by their gods and also their religious beliefs. There are several regional Indian cuisines. Among them, Bengali Food is one of the most popular.
Bengali cuisine had been influenced by both the Bangladeshis and the West Bengal populations. The type of food found all over West Bengal, consists mostly of dals, fishes and eggs in their dishes along with vegetable curry. Bengali food would always have a discrete bold flavor with the use of different spices like cinnamon, coriander, cardamom, cumin and a mixture of the typical garam masala. Another spice commonly used is mustard seeds in powdered or whole form. Bengali food sometimes tastes lighter than the strong Indian food.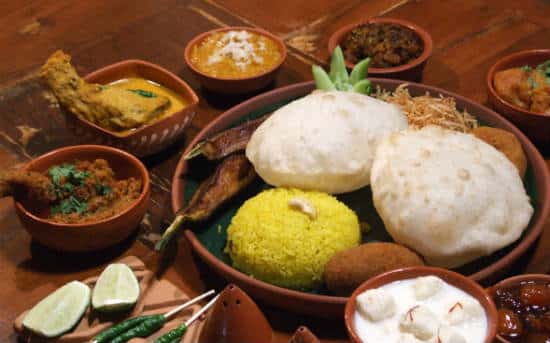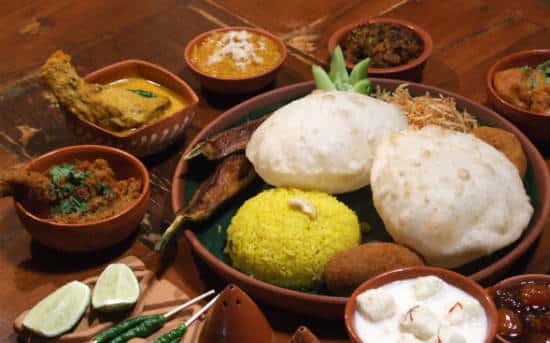 West Bengal has always been famous for its mouthwatering dishes. Although the staple food of the state revolves around rice and fish, there are too many varieties of just rice and fish that you can never have enough of and you would eventually want to try out each of the dishes. You can actually have the fish steamed, just fried, or stewed with healthy vegetables and sausages or plainly boiled in spices, with unusual flavors. You are spoilt for choices with options like Hilsa, Bhekti, Magur, Salmon, Prawns, Rui and Carp, which are most popular of all varieties of fish in West Bengal.
Bengali cuisine is appreciated for its remarkable use of panchphoron, a term used to refer to the combination of five spices, namely mustard, cumin seed, aniseed, fenugreek seed, and black cumin seeds. The area of expertise which makes Bengali food lay a step ahead is the perfect blend of sweet and spicy flavors. For people of Bengal, food is one of the most, if not the most essential for all aspects of their day to day lives. It is a part of their remarkable hospitality, to feed their guests in the best way. More than gifting, people of Bengal believe in serving good food to people who visit their places, or whom they pay a visit too. Food and feeding form an integral part of the Bengal culture and hence every dish portray the love and care it has been prepared with.
Women of all ages spend a lot of time in the kitchen cooking delicious feast for the family. For some conventional people, ladies are supposed to have this area of expertise even if they don't have any awareness about any other area of knowledge. For many others, it is considered to be an add-on expertise and not a mandatory one. However, it is found that many men love to cook too and surprisingly, even if they are regularly in the office, when they cook they cook really well. It is also proven by a lot of researches, that sometimes cooking relaxes people and calms the anger or depression down for people.
Another facet that makes Bengali cuisine so distinct is the constant endeavor of experimentation that the people of Bengal do with their food and the way they explore and invent different dishes with the same set of available vegetables and spices. Some of the many traditional dishes of West Bengal also depict the effects of the long Mughal and also European reign in their state. The majority of the Bengalis is found to be born with a sweet-tooth and all the sweet dishes, alongside sweet curd, form an imperative part of all their meals. Some people just cannot do without any sweet dish after each meal, no matter where they go for studies or work or tours. In some cases people have even gone to the extent of having sugar cubes to curb their craving for a post-meal-sweetener.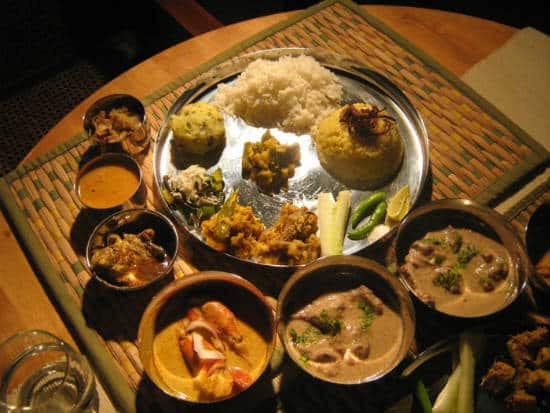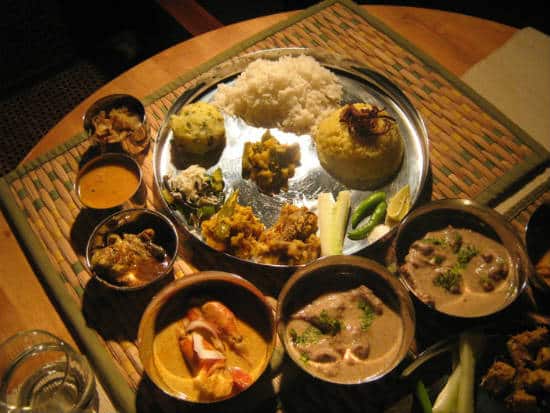 Mishti Doi (the sweet white or reddish curd), is one of the most well-liked desserts of Bengal, and is served conventionally in an earthen bowl (big or small) and tastes extremely delectable. Bengali Sweets are rightly referred to as the gastrointestinal delights. They include Rôshogolla, Chômchôm, Pantua, Pithe, and Shôndesh, to name just a few. Talking about Bengali snacks, which can be consumed at any point of time by unbiased foodies, Muri, Jhal-Muri and Gurer Moa are the most famed. Other popular Bengali dishes are Begun Bhaja (the fried Eggplant, sometimes an entire eggplant is sliced keeping the length intact, and fried and served with spices), Aloo posto (Posto is poppy seeds), Luchi (a kind of flour snack made out of frying flour spreads in oil), Alu bhaja (potato fry), Dim bhaja (egg fry), Macher Jhol (a fish recipe having simple curry), Doi Machch (preparation of fish using curd) and Kosha Mangsho (a meat dish which is mostly rich and spicy). These are some of the conventional dishes every native of Bengal is aware of.
Foodies in real sense are mostly found in Bengal. And they are not at fault. Considering the wide range of available choices of tasty food items for all hours and moods, they do not have much of a choice. There are just too many of the lip-smacking junk food types like Singara (triangular stuffed flour pakodas), Jilipi (twisted rounded sugary fried flour slices), Aloo Chop (potato based snack), Jhaal Moori (puffed rice, mixed with onions and potatoes and a lot of spices to make a tangy tasty snack) and Phuchka (hollow fried flour balls, stuffed with a mix of potato and spices, served by dipping in a tasty sharp  flavored tamarind water) are the must-haves among food mongers.
It will not be too exaggerating to call the natives of Bengal as people who Live to Eat and not Eat to Live.