Shish Taouk (or Skewered Chicken Kebabs) is a traditional Middle Eastern dish, especially in Lebanon. Skinless and boneless chicken pieces are marinated and then grilled. These are then served with pita bread, salad and sauce of choice.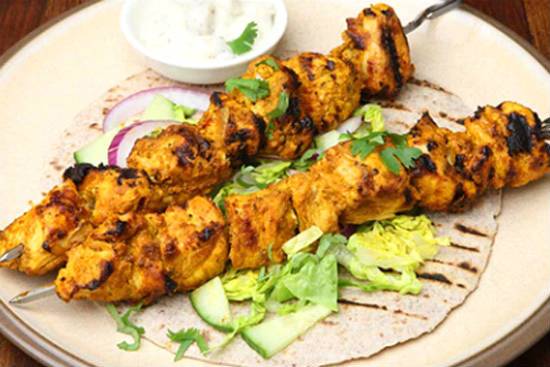 Ingredients:
Chicken Breast – 450 gms, skinless, boneless
Lemon Juice – 2 tblsp
Plain Yogurt – 1/4 cup (optional)
Olive Oil – 2 tblsp
Garlic – 2 cloves, finely chopped
Black Pepper Powder as per taste
Red Chilli Powder – a pinch
Garam Masala Powder – a pinch
Salt as per taste
Wooden Skewers – 3 to 4, soaked in water for 30 minutes
Method:
1. Combine the lemon juice, yogurt, olive oil, garlic, pepper powder and chilli powder in a bowl.
2. Chop the chicken breast into bite-sized pieces and add to the bowl.
3. Mix well and cover with a lid.
4. Keep aside for 2 to 3 hours in the fridge.
5. Heat a grill pan over medium flame.
6. Skewer the marinated chickens and place them on the hot grill.
7. Cook for 15 minutes, turning a few times, or until cooked through and browned all over.
8. Remove and transfer to a serving plate.
9. Serve with pita bread, salad and sauce of choice.