Spice up your dinner routine with Veinchana Royyalu, a mouthwatering prawn curry that's as flavorful as it is easy to make.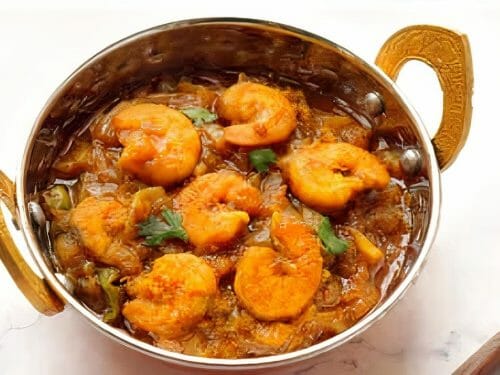 Veinchana Royyalu, or Curried Prawns, is a culinary treasure from the coastal regions, known for its rich and robust flavours. This dish marries succulent prawns with a symphony of spices and a zesty hint of lime juice, resulting in a curry that's a true delight for the senses.
The recipe begins by marinating the prawns in a mixture of ginger, garlic, salt, and turmeric, all brought together by the tangy freshness of lime juice. This step infuses the prawns with flavour and ensures they're tender and juicy.
The cooking process takes you on a flavorful journey. The aroma fills the kitchen with the fragrant cardamoms, cloves, and aniseed sizzle in hot oil. Sliced onions are added and cooked until they turn a lovely shade of brown. The remaining ginger and garlic join the party, followed by a blend of coriander and chilli powders for that signature heat.
For those who enjoy a little extra kick, green chillies are added to the mix, elevating the spice level. Optional chopped tomatoes add a touch of sweetness and tanginess.
With the addition of water, the prawns take centre stage, simmering to perfection in the aromatic sauce. Finally, garnish with fresh coriander leaves to add color and freshness.
Serve this Veinchana Royyalu hot with rice, and you'll have a meal that transports you to the coastal kitchens of India. It's a dish that captures the essence of traditional coastal cooking, making it a must-try for seafood enthusiasts.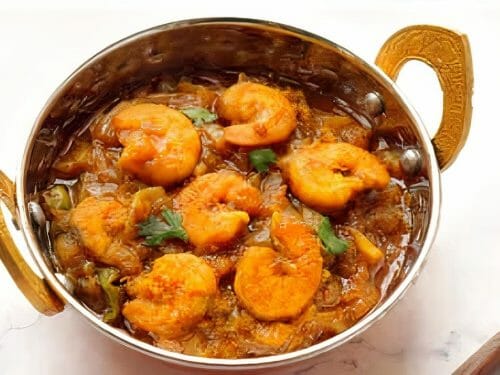 Veinchana Royyalu (Curried Prawns)
Spice up your dinner routine with Veinchana Royyalu, a mouthwatering prawn curry that's as flavorful as it is easy to make.
Ingredients
800

gms Prawns (medium size, deveined and cleaned)

5 to 6

Onions (finely sliced)

4

tsp

Ginger (ground)

4

tsp

Garlic (ground)

Salt (as per taste)

2

tsp

Turmeric Powder

Juice of 4 Limes

1

cup

Oil

6 to 8

Cardamoms

6 to 8

Cloves

1/2

tsp

Aniseed

3 to 4

tsp

Coriander Powder

2

tsp

Red Chilli Powder

7 to 8

Green Chillies

1

bunch Coriander Leaves (chopped, for garnish)

2 to 3

Tomatoes (chopped (optional)
Instructions
In a bowl, mix half of the ginger, garlic, salt, and turmeric with lime juice. Marinate the prawns in this mixture for 20 to 30 minutes.

Heat oil in a pan.

Fry cardamoms, cloves, and aniseed until cardamoms darken.

Add onions and fry until light brown.

Add the remaining ginger and garlic. Fry lightly.

Stir in coriander and chili powder.

Add tomatoes (if using) and fry for about 2 minutes.

Pour in 1 to 2 cups of water, add prawns and green chilies.

Cook for about 5 to 6 minutes.

Adjust salt to taste.

Garnish with fresh coriander leaves.

Serve hot with rice.
Serving Size: 4 servings
Frequently Asked Questions (FAQs):
What type of prawns are best for Veinchana Royyalu?
Medium-sized prawns work well for this recipe. They are meaty and absorb the flavors beautifully. You can also use larger prawns if preferred.
Can I adjust the spice level of Veinchana Royyalu?
Absolutely! You can control the heat by reducing the amount of green chilies and red chili powder. For a milder version, use fewer chilies.
Are there any vegetarian alternatives to this dish?
For a vegetarian option, you can replace prawns with tofu or paneer cubes and follow the same recipe. The spices and flavors will still be delightful.
What side dishes pair well with Veinchana Royyalu?
This curry pairs wonderfully with steamed rice or Indian bread like naan or roti. A side of cucumber raita or a fresh salad complements the flavors beautifully.
Can I make Veinchana Royyalu in advance?
While it's best enjoyed fresh, you can prepare the spice mix and marinate the prawns in advance for a quicker cooking process. Just be sure to refrigerate them properly.