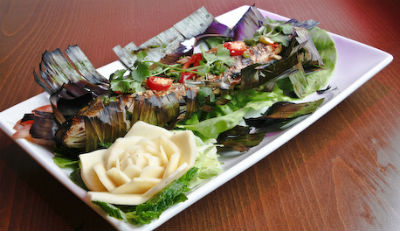 Ingredients:
White Fish Fillets – 250 gms, boneless, cut into small pieces
Banana Leaves – 6 (about 7×8 in), blanced in hot water for a minute
For the marinade:
Red Chillies – 2, small, deseeded, minced
Lemongrass – 1 stalk, small, finely sliced bottom inner part only
Small Onions – 2, small, minced
Garlic – 2 cloves, crushed
Sugar – 1 tsp
Fish Sauce – 1/2 tsp
Lime Juice – 1/2 tsp
Salt as per taste
Oil – 1 tsp
Black Pepper Powder as per taste
Method:
1. Mix all the marinade ingredients in a bowl.
2. Marinate the fish for 30 to 40 minutes. Ensure the fish pieces are well coated with the marinade.
3. Add 3 tblsp of the fish mixture with the marinade to the center of a banana leaf and spread well.
4. Then wrap the leaf tightly over the filling and tuck in the ends downwards. If required, use a toothpick to hold it together.
5. Grill these packets over a hot grill for 5 minutes on each side or until cooked.
6. Serve hot.
image credit: https://www.flickr.com/photos/hannie_dethuong/5321215005/