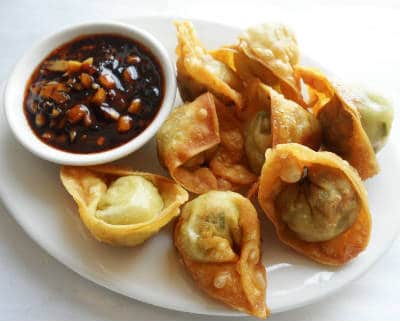 Ingredients:
Chicken – 300 gms, cooked, minced
Onion – 2, large, minced
Spring Onions – 3, minced, green parts only
Egg – 2, separated, egg yolks beaten well
Fish Sauce – 2 tblsp
Sugar – 2 tblsp
Pepper Powder – 1 tsp
Wonton Wrappers – 20 to 25, separated
Oil as required
Method:
1. Mix the chicken, onions, spring onions, egg white, fish sauce, pepper powder and sugar in a large bowl.
2. Mix well for 4 to 5 minutes or until lightly stiff.
3. Separate the wonton wrappers and cut each into triangles.
4. Add 1 or 2 tblsp of the chicken mixture on each triangle.
5. Brush the edges with the egg yolk and place another triangle on top.
6. Press the edges and seal completely.
7. Heat oil in a deep frying pan over medium flame.
8. Fry the prepared wontons for 2 to 3 minutes each side or until golden brown and crispy.
9. Remove and drain excess oil.
10. Serve hot with ketchup or chilli sauce.