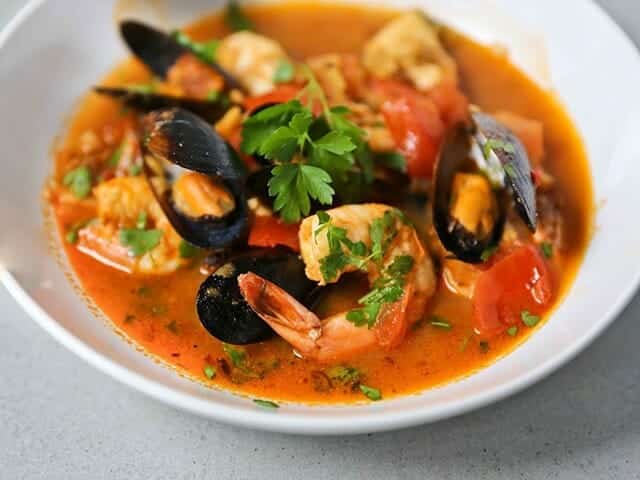 Ingredients:
Mussels – 12, fresh, cleaned
Shrimp – 200 gms, medium size, raw, peeled, deveined, shells reserved
Chicken Stock  – 1 litre
Water – 500 ml
Lemongrass – 1 to 2 stalks, peeled, chopped
Oil – 1/2 tblsp
Juice and Zest of 1 small Lime, grated
Kaffir Lime Leaves – 3 to 4
Ginger – 4 one inch pieces
Green Chillies – 1, seeds removed, chopped
Thai Fish Sauce – 1 tblsp
Coriander Leaves – 1 to 2 tblsp, chopped
Red Chilli Flakes as required
Spring Onions – 2 tblsp, sliced
Salt as per taste
Method:
1. Heat oil in a pan.
2. Saute the shrimp shells till bright pink.
3. Add the chicken stock, water, lemongrass, lime zest, kaffir leaves, ginger and green chillies.
4. Bring to a boil, reduce heat and simmer for 15 to 30 minutes.
5. Strain into a clean large soup bowl.
6. Place this over medium flame and bring to a boil.
7. Add the mussels and cover with a lid.
8. Cook until the shells open.
9. Remove the mussels and keep aside.
10. Discard any unopened ones and the top shell of each cooked mussel.
11. Add the shrimp to the bowl and cook for 1 to 2 minutes.
12. Reduce heat to low.
13. Add the mussels to the bowl.
14. Add the lime juice, fish sauce, coriander leaves, red chilli flakes, salt and spring onions.
15. Simmer for a minute or two.
16. Serve at once.