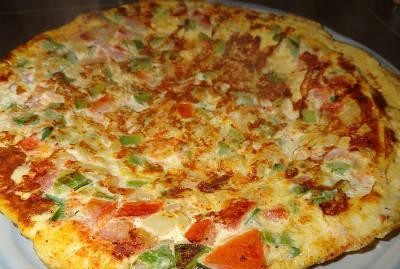 Ingredients:
Egg – 1
Onion – 1 tblsp, chopped
Capsicum – 1 tblsp, finely chopped
Tomato Juice – 1 tblsp
Cheese – 1 tblsp, grated
Black Pepper Powder – 1/4 tsp
Butter – 1/2 tblsp
Coriander Leaves – few, chopped
Salt as per taste
Method:
1. Break the egg and beat well.
2. Add tomato juice and salt.
3. Mix well and keep aside.
4. Heat butter in a tawa over medium flame.
5. Pour the egg mixture and tilt the tawa to spread it evenly.
6. Sprinkle onions and capsicums. Cover the pan with a lid.
7. Reduce flame and cook for a minute.
8. Cook on both sides till light golden brown.
9. Sprinkle cheese and cook till it melts.
10. Transfer to a plate and serve hot.
Tip: Instead of tomato juice, you can also use finely chopped tomatoes.