A special Holi recipe from Rajasthan.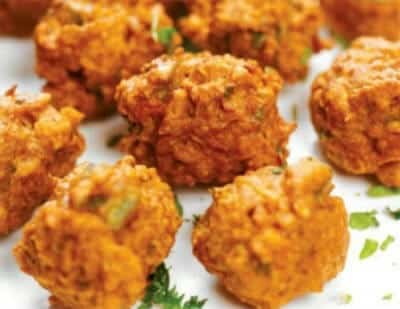 Ingredients:
Bhang Leaves – handful, tender (or use 1 tsp Bhang Seed Powder)
Potato – 1, chopped
Onion – 1, chopped
Brinjal – 1, chopped
Cauliflower – 1 cup, chopped
Gram Flour – 1 cup
Red Chilli Powder – 1 to 2 tsp
Oil as required
Salt as per taste
Dry Mango Powder – 1/4 to 1/2 tsp
Pomegranate Seeds – 1/4 tsp
Coriander Leaves – small handful, finely chopped
Cumin Seeds – 1/4 tsp (optional)
Water as required
Method:
1. Finely chop the bhang leaves and crust them well.
2. Add the ingredients except oil into a large bowl.
3. Add the bhang leaves and mix well, adding enough water, to a thick batter.
4. Heat oil in a deep frying pan over medium flame.
5. Drop small portions of the batter and deep fry until golden brown.
6. Remove and drain excess oil.
7. Serve hot with chutney of choice.