Locally known as Gai Yang, this is a popular Thai dish where chicken is marinated in herbs and spices and then grilled until golden and cooked. Best served with sweet chilli sauce or any other dipping sauce of choice.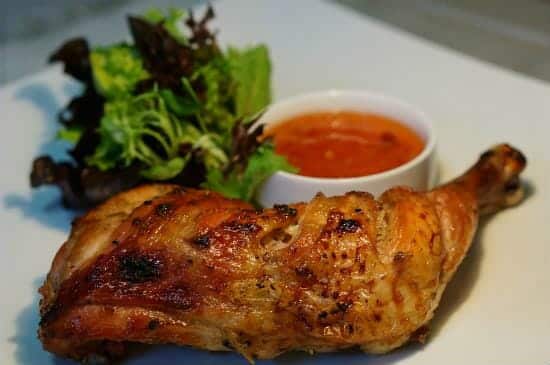 Ingredients:
Whole Chicken – 750 gms, spine removed and split in half
Coconut Milk – 2 tblsp
Lemongrass – 1 stalk, crushed lightly and chopped
Coriander Roots – 2, chopped
Garlic – 2 cloves, crushed
Light Soy Sauce – 3 tsp
Dark Soy Sauce – 1/2 tsp
Thai Fish Sauce – 1 1/2 tsp
Lime JUice – 1 1/2 tsp
Oyster Sauce – 3 tsp
Black Peppercorns – 1/4 tsp
Brown Sugar – 1 1/2 tsp
Turmeric Powder – 1/2 tsp
Salt as per taste
Method:
1. Combine and grind together the lemongrass, coriander roots and garlic.
2. Transfer to a large bowl.
3. Add the fish sauce, dary soy sauce, light soy sauce, oyster sauce, lime juice, pepper powder, brown sugar, turmeric powder and coconut milk.
4. Mix well.
5. Pour this over the chicken and rub well, ensuring the parts under the skin are coated too.
6. Keep this in the fridge for 8 hours or overnight.
7. Heat a grill pan over medium flame.
8. Grill the chicken until cooked through and golden, approx 10 to 20 minutes.
9. Remove and cut into bite-sized pieces.
10. Garnish with coriander leaves.
11. Serve with Thai sweet chilli sauce or any other dipping sauce of choice.