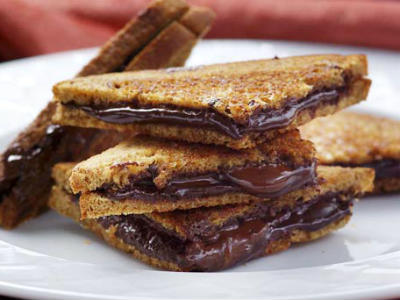 Ingredients:
Bread Slices – 2
Butter – 1 to 2 tsp
Chocolate – 1 bar (about 50 to 75 gms)
Method:
1. Apply butter on the bread slices.
2. Break the chocolate into small pieces and place them on one bread slice.
3. Cover with the other slice and sprinkle a few chocolate pieces on top.
4. Heat a tawa over low flame.
5. Place the sandwich on the tawa and cover with a pan.
6. Cook till the chocolate pieces have melted and the bread slices are golden brown.
7. Remove and serve at once.
Tip: You can also use a sandwich maker instead of cooking in a pan.
image credit: burrp.com