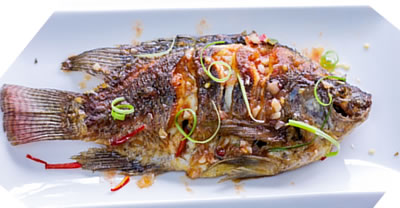 Ingredients:
Any firm-fleshed Fish – 1 to 2, scaled, gutted, scored on the sides
Salt as per taste
Small Onions – 2 tblsp, sliced
Oil as required
For the tamarind sauce:
Sugar – 1/4 cup
Soy Sauce – 3 tblsp
Water – 3 tblsp
Tamarind Extract – 1/2 tblsp, thick
Black Pepper Powder as per taste

Method:
1. Combine all the sauce ingredients in a pan over medium flame.
2. Cook until it starts to thicken.
3. Remove and keep aside.
4. Sprinkle salt all over the fish.
5. Heat oil in a non-stick frying pan.
6. Fry the fish until golden and crispy.
7. Remove and drain excess oil.
8. Transfer to a serving plate.
9. Pour the tamarind sauce on top.
10. Garnish with onions.
11. Serve at once.
image credit: kitchenart.vn