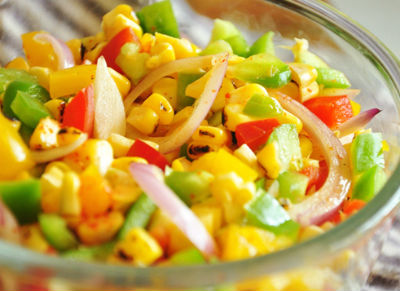 Ingredents:
Corn Kernels – 1 1/2 cups
Jalapenos or Red Chillies – 2, small, minced, seeds removed
Lemon Juice – 2 to 3 tsp
Onion – 1/4 cup, finely chopped or finely sliced
Olive Oil – 2 tblsp
Salt as per taste
Black Pepper Powder as per taste

Method:
1. Heat oil in a pan.
2. Saute the corn and jalapenos for 30 to 45 seconds.
3. Transfer them to an oven safe bowl.
4. Place it in a preheated oven at 350F and cook for 30 minutes or until the corn is tender.
5. Remove and cool.
6. Transfer to a serving bowl.
7. Add lemon juice, onions, salt and pepper.
8. Mix well and serve warm or at room temperature.
Tip: If desired, add finely chopped tomatoes.