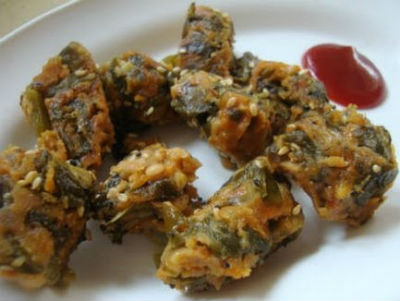 Ingredients:
Moong Dal – 1 cup, soaked for 2 hours
Spinach (Palak Keerai) – 1 bunch, washed, cleaned, chopped
Onion – 1, finely chopped
Ginger – 1/2 inch piece, peeled, chopped
Cumin Seeds – 1/4 tsp
Saunf – 1/4 tsp
Green Chillies – 2
Oil as required
Salt as per taste

Method:
1. Combine the moong dal, salt, green chillies, cumin seeds, saunf and ginger.
2. Grind together and transfer to a bowl.
3. Add the chopped onions and spinach.
4. Mix well.
5. Heat oil in a deep frying pan.
6. Deep fry small portions of the dough, few at a time, till golden brown.
7. Remove and drain excess oil.
8. Serve as a snack.