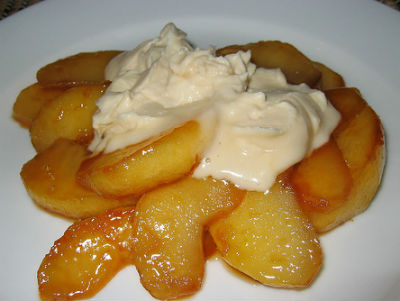 Ingredients:
Pears – 2, medium, peeled, cored, cut into wedges
Butter – 1 tblsp
Brown Sugar – 1/4 cup
Coffee-flavoured Liqueur – 1 tblsp
Vanilla Ice Cream – to serve.
Method:
1. Heat butter in a large pan.
2. Add the pears and cook until they are slightly soft.
3. Sprinkle sugar and reduce flame to low.
4. Cook until all the sugar has dissolved, stirring from time to time.
5. Then boil for a minute and add the liqueur.
6. Increase flame to high and cook for a minute or two.
7. Serve with vanilla ice cream.
Tip: If coffee-flavoured liqueur is not available, substitute it by mixing 1/2 tsp of instant coffee powder mixed with 1 tblsp of water and 1/2 tsp of chocolate syrup.
image credit: trialx.org