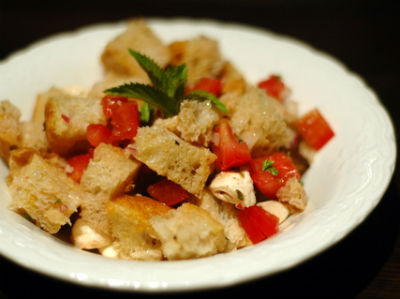 Ingredients:
Baguette – 1, small, cut into small chunks
Tomatoes – 2, small, diced
Red Onion – 1/4 cup, finely sliced
Extra-Virgin Olive Oil – 1 1/4 tblsp
Balsamic Vinegar – 3/4 tblsp
Basil Leaves – few, chopped or left whole
Parsley – few, finely chopped
Sea Salt as per taste
Black Pepper Powder as per taste

Method:
1. Transfer to a bread to a oven-safe bowl and place it in a pre-heated oven at 180C for a minute or two until the bread pieces are dry and lightly coloured.
2. Remove and cool.
3. Add the tomatoes and onions.
4. Add basil and parsley.
5. Mix well.
6. Add some salt and pepper powder.
7. Drizzle olive oil and vinegar.
8. Toss well to combine.
9. Serve.
image credit: superspark.wordpress.com